They're called "lungworms"  several species of roundworms that infect the lungs of caribou, muskox, bison, and Dall sheep.
While their presence had been detected several years ago, the incidence of the infection is spreading and it would appear climate change is a factor.
In an article by Drew Scherban in University of Calgary story, Susan Kutz, an associate professor in the university's Faculty of Veterinary Medicine is quoted saying, "A warming climate can release temperature constraints on parasites, allowing them to expand their range. At the same time, this warming may be detrimental to the hosts that are adapted to cold conditions, and make them more susceptible to parasites and other pathogens."
The lungworms which each live about 2 years, can grow to 65 cm, and exist by the hundreds. Their range used to be limited by the climate, but as the summers lengthen and the winters less harsh, they have been spreading.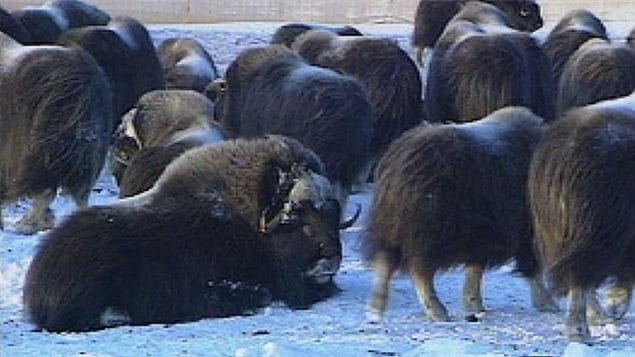 Infected animals have a harder time breathing and tire quickly making them easier prey for predating wolves and bears.
The animals are also important for the aboriginal people of the north for food, clothing, and to their culture.
Deliberate infections to study parasites
A new study at the University of Calgary by professor Kutz seeks to acquire new information about the life cycle of the lungworms and reaction to different temperatures.
Eight caribou at the university's Wildlife Research Station have been infected and scientists will study the lifestyle of the parasites and how they are affected by temperature.
The disease is spread when lungworm larvae are coughed up and then swallowed by the animal. They are released in the feces where slugs, or in some cases snails, take up the eggs as an intermediate host.  When grazing, the animals would then accidently ingest the slugs on plants. The larvae then travel  back to the lungs to repeat the process.
Additional information- sources