It has been a long-standing international trade dispute pitting Canada and Mexico against the US and in spite of consistently losing at the World Trade Organization, the US, is still causing financial harm to a Canadian livestock sector.
Begun in 2002, the US Country of Origin Labelling on meat (COOL) regulations which became mandatory in 2008,  have caused serious financial harm to Canadian meat producers in the billions of dollars.
Challenged by Canada since 2008, everyone thought that the US had finally backtracked on COOL after repeated World Trade Organization decisions against them, but it's still not over. Canadian sheep and lamb were left out of the repeal, and still subject to the US COOL regulations.
Phil Kolodychuk runs a commercial sheep ranch in Alberta with about 300 ewes. He is the Chairman of the Canadian Sheep Federation
Listen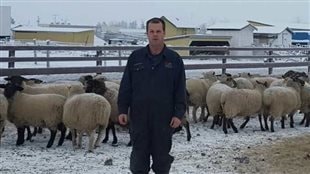 The original mCOOL regulations were challenged almost immediately by Canada and Mexico under international trade rules.
In spite of winning their case several times over the years, the US actually added meat from goats and chickens, ginseng, macadamia nuts and pecans in a 2008 Farm Bill, and then added venison in a 2014 Farm Bill.
While COOL didn't directly affect Canadian operations, it forced US meat producers, processors and distributors to separate animals and meat products from Canada at each stage of the process. This meant greatly increased costs to do so. Because this was not the case for American animals and meat products, Canada claimed this was a discriminatory trade practice. Canada consistently won each time the case was brought before the WTO and various repeated appeals by the US.
The problem with COOL was that as a result of the exta trouble and costs American purchasers drastically cut back on buying Canadian animals and meat drastically harming the Canadian meat industry. The Canadian government estimates the harm to be worth about $3 billion annually.
At the final round after the US had simply run out of appeal options, the WTO gave Canada the right to institute retaliatory trade measures up to $1 billion annually until the US repealed COOL.
The US has this month agreed to remove the barriers it had set up to cattle, swine, and chicken.  But left out sheep and lambs.
Mr. Kolodychuk says his Federation will try to meet with Canada's federal Agriculture minister to see what action can now be taken to resolve a costly situation for sheep and lamb producers.
Additional info- sources