When Tim Lambert first heard of Heart for Africa, an orphanage founded by a Canadian couple, Ian and Janine Maxwell, in AIDS-ravaged Swaziland, he knew he wanted to get involved.
"Most people won't know this but Swaziland has been particularly hard hit by HIV/AIDS," said Lambert, CEO of Egg Farmers of Canada, which manages Canada's egg supply and represents egg producers. "The average life expectancy of a person living in Swazi is 29 years, if you can imagine that. Of a population of about 950,000 people, there are 250,000 orphans."
(click to listen to the interview with Tim Lambert)
Listen
The orphanage run by the Maxwells, in the tiny South African kingdom, has 106 children and sits on a 2,500-acre farm that produces food for a network of thirty churches in Swaziland, Lambert said.
Egg Farmers of Canada knew they had the expertise to help Heart for Africa enhance its existing feeding program that delivers 74,000 hand-packed meals each month to rural communities through its church network, Lambert said.
The partnership between Egg Farmers of Canada and Heart for Africa was announced in late 2014 and since then Canadian egg farmers have helped locals build the entire egg farm from the ground up, Lambert said.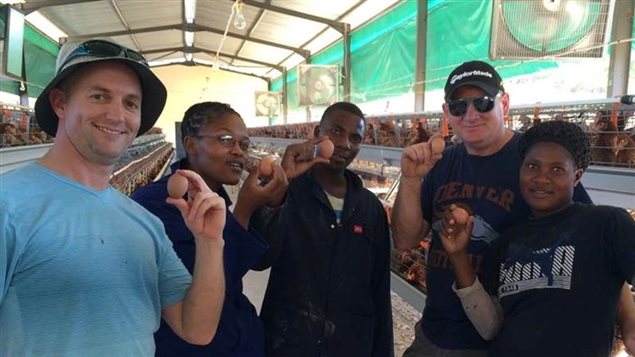 "We currently have a fairly small farm – it's about 2,500 birds – but it will supply about 2,000 eggs a day to these feeding programs," Lambert said.
The project team is also training about 280 Heart for Africa staff and Swazi locals in the farming practices commonly used throughout Canada so they can establish a long-term strategy to sustain the operation over time.
"You have to know how to feed the birds properly, you have to know what to look for in terms of recognizing disease and health, you've got to keep the facilities clean, you've got monitor temperature, you've got to monitor their water and feed consumption, there is a little bit of record keeping involved," Lamber said. "So our team of volunteers – in fact a couple of them are over there now – are doing day-to-day training with their staff in the barn."
Egg Farmers of Canada is planning to be involved in the project over the next seven years, Lambert said.
To help finance the project Egg Farmers of Canada has set up a campaign, called Help Us Crack Hunger.
"One hundred per cent of the donations we take goes to actually constructing the barns, to buying the feed, to buying baby chicks we can grow into layers," Lambert said. "We have a company from Denmark donating cooking equipment, we hardcook and ship the eggs out on a truck, and we bought a truck with funds we raised, so it's just been an amazing-amazing project."
Sustainable agriculture is crucial for countries experiencing food insecurity and malnutrition, said Julian Madeley, managing director of the International Egg Foundation, which works in collaboration with Egg Farmers of Canada on the Heart for Africa project.
"This egg farm will serve as a showcase for other developing countries and regions afflicted by malnutrition and hunger," said Madeley in a statement. "When organizations like Heart for Africa and Egg Farmers of Canada partner with local farmers, the diets, well-being and outcomes for populations can be improved greatly."