Health authorities in Canada and the U.S. are warning pregnant women to reconsider travel to countries where the Zika virus is circulating, and they urge people who do go, to take steps to avoid being bitten by mosquitoes. While Zika used to not be much cause for concern, it is now being linked to increased cases of brain damage in newborns and Guillain-Barre syndrome. Many Canadians travel south in winter, particularly to the Caribbean and Mexico, and other regions which are now reporting transmission of Zika.
The virus is spread by the Aedes aegypti mosquito, which also can carry the dengue, yellow fever and Chikungunya viruses. The Centers for Disease Control and Prevention (CDC) in the United States warns Zika can be spread from a pregnant woman to her unborn baby.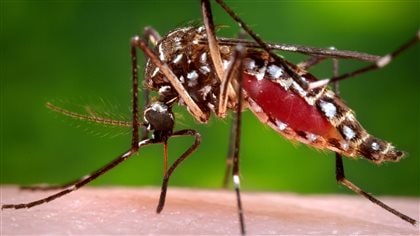 Link to serious birth defects
It adds "There have been reports of a serious birth defect of the brain called microcephaly and other poor pregnancy outcomed in babies of mothers who were infected with Zika virus while pregnant." It is not yet clear what the link is, but until more is known the CDC recommends pregnant women postpone travel to regions where Zika is spreading or, at least, take strict measures to avoid being bitten by mosquitoes.
Brazil has seen 3,893 recent cases of babies born with smaller-than-normal heads and health authorities are linking it to Zika. Meanwhile, the virus has spread from Africa and the south Pacific to several countries in the Americas and the Caribbean.
There is no vaccine to protect against Zika, but Brazil's president says her Health Ministry is working with foreign labs to try to develop one.
Link to Guillain-Barre syndrome
The symptoms of Zika are usually mild and include fever, rash, joint pain, and red eyes. There is no treatment and they usually last two to seven days. However, there have been increased cases of Guillain-Barre syndrome linked with Zika. With this illness, the body's immune system attacks the nervous system. Symptoms can begin with weakness and tingling in the extremities and can lead to paralysis. There is no cure.
"It (Guillain-Barre) is supposed to be extremely rare," says Jason Tetro, microbiologist and author of "The Germ Files. "But the caseload seems to be increasing which suggests that the virus may …be becoming more virulent. We need to be just more cautious about its spread."
Listen
Canada too cold for Zika-carrying mosquitoes
Zika is likely to speak to all countries in the Americas except for Canada and Chile, according to the World Health Organization. For now, the mosquito that carries it cannot survive Canada's cold winter. However, people who travel can come home with the illness.
Tetro believes the Zika virus could fade in about 18 month as people develop immunity to it. But viruses evolve and nothing is certain. So, for now, people who travel to regions with Zika should take the usual precautions to avoid mosquito bites: use mosquito repellent, wear light-coloured clothing covering arms and legs. And women in all stages of pregnancy are warned to discuss travel with their doctors and consider postponing such trips.