Two crew members aboard a Canadian frigate are facing drug related charges in Japan after they were detained by Tokyo police, says the Royal Canadian Navy.
The pair – a civilian employee and a member of the military – were detained Monday while HMCS Winnipeg, based at Canadian Forces Base (CFB) Esquimalt, in British Columbia, was in Tokyo for a port visit.
The navy said that originally three crew members were detained, including two members of the military and a civilian employee. One of the sailors has since been released, but the other two were charged and are still being detained, Sub. Lt. (N) Melissa Kia told RCI Thursday.
"These allegations are obviously troubling," said Rear Admiral Gilles Couturier in a written release.
"All of our personnel, military and civilian, are expected to conduct themselves in a manner that brings credit to the navy, the Canadian Armed Forces, and our country as a whole."
The Canadian military has a zero-tolerance policy for illicit drug use and possession, said the statement.
Japan could exercise primary jurisdiction
It's not clear at this point whether the two Canadians will face a trial in Japan or will be handed back to Canadian authorities and will be dealt with under the Canadian justice system, said Michel Drapeau, a professor of military law at University of Ottawa.
Japan is a signatory to the Visiting Forces Act under which it could decide to hand over the two Canadians for prosecution by a Canadian court – either in Canada or on Japanese soil. However, under the act, civil courts also have the right to exercise primary jurisdiction and try the suspects in a Japanese court, Drapeau said.
For example, authorities in Halifax have decided to reserve their jurisdiction and try four British sailors charged with sexually assaulting a local woman, even though Britain is also a signatory of the Visiting Forces Act, Drapeau said.
If Japanese authorities decide to hand them over to Canada, the military has a choice to charge them if a corresponding criminal offense exists in the criminal code, or to charge them with disciplinary offences under "conduct prejudicial to good order and discipline," a catch-all offence to criminalise misconduct that is not specified elsewhere, Drapeau said.
"I don't think the military will do anything until Japan decides what it wants to do," Drapeau said.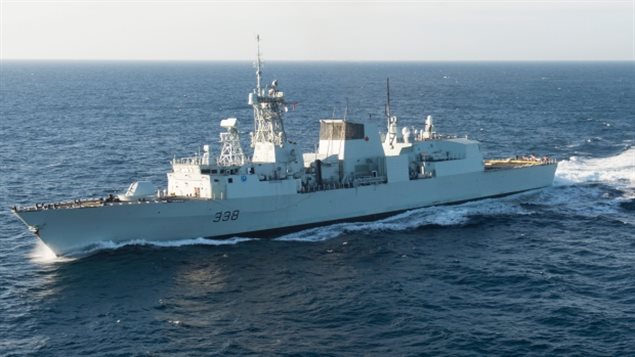 "For now we'll have to play it by ear," Sub Lt. Kia said.
The navy is working with the Canadian Consulate and Japanese authorities, and is providing support to the families of the accused, she said.
HMCS Winnipeg, a Halifax-class frigate with a crew of about 250 personnel, deployed from Esquimalt on June 15, 2015, and is on its way back to CFB Esquimalt.
Sub Lt. Kia said HMCS Winnipeg has been on an extensive voyage, during which the frigate took part in three international operations.
The frigate and crew participated in Operation Caribbe, a multinational campaign against drug trafficking in the Caribbean and the eastern Pacific Ocean, before joining NATO forces in the Mediterranean Sea as part of Operation Reassurance.