ISIS is using the internet as a weapon of war and Canada needs to fight back online, say digital security experts. "If we really want to defeat the group, if we want to weaken its ability to attract new foreign fighters to Iraq and Syria or to stop it from having lone wolf attacks carried out in the west or in Brussels or wherever, then we need to have a cyber strategy to counter it online," says Kyle Matthews, founder of the Digital Mass Atrocity Prevention Lab at Concordia University in Montreal.
Listen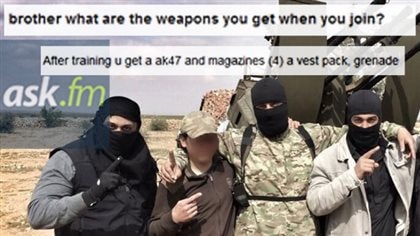 ISIS 'has weaponized the internet,' says expert
"Because it (ISIS) has weaponized the internet and it has used social media as a tool in conflict, we have to really rethink how we're going to defeat this group. I think a cyber strategy, a digital component is absolutely necessary."
ISIS uses the internet to spread its violent message, to recruit, and to exhort people to attack in their home countries. Some young people in Canada have been successfully recruited and have gone abroad to join. Others have been intercepted before leaving.
Tech companies should help, says Matthews
Matthews would like the Canadian government to bring together police forces and officials from several government departments, academia, civil society and the private sector to examine ISIS' use of the internet. He also wants the government to remind tech companies about corporate social responsibility and their moral obligation to help stem ISIS use of the internet as its own propaganda too.
The U.S. and France have stepped up their efforts to counter ISIS online. The U.S. has recruited people to create content to counter the ISIS narrative. While Canadian police and security forces are monitoring some of the ISIS activity online, Matthews says they need to step up their game.
'I think we have to wake up'
"Now, in 2016, …non-state actors , individuals have enormous power at their hands. All you need is a cell phone connection and a computer or internet connection, and you can actually spread hate, incite others to commit violence.
"I think we have to wake up and realize that this is major. All big conflicts, all violence begin with ideas. And when those ideas start to spread and infect others like a virus, then we're going to have bigger security problems at the domestic and international level. And it could eventually eat away at a lot of Canada's social cohesion between different social groups," says Matthews.
"As a multicultural and open society, we really need to take this more seriously."