Canada will process an additional 10,000 applications from private sponsorship groups wishing to help resettle Syrian refugees, federal Immigration Minister John McCallum said Thursday.
McCallum's announcement comes following complaints from Canadians who felt the government had scaled back its efforts after reaching its goal to resettle 25,000 Syrians by the end of February.
Officials will now process all privately sponsored applications submitted up until March 31, McCallum said.
Thursday's announcement is in addition to the 17,800 privately sponsored refugees the government intends to resettle by the end of 2016, McCallum said.
"In addition, I'm adding this commitment to honour the 10,000 in our inventory of privately sponsored refugees by the end of 2016," McCallum said in a phone interview with CBC News from Berlin.
"We're going all out to meet the demand."
Caught off guard
Private groups were caught off guard when the government scaled back efforts to resettle Syrians after the Liberals achieved their goal of bringing in 25,000 people by the end of last month.
In addition to cutting staff processing Syrian applications, the government decided to limit the number of applications it would accept this year and since the inventory already exceed that cap, it was unlikely anyone who submitted a file after Jan. 1 would see the refugee they wanted to sponsor arrive this year.
The move prompted frustration among private groups, many of whom didn't start raising funds until after the Liberals unveiled their marquee Syrian program in November. It also raised questions about whether the Liberals were truly committed to refugee resettlement or had lost interest after meeting their target.
McCallum said the government remains committed to refugees, but has to manage the system in a responsible way.
"The Sponsorship Agreement Holders Council has expressed satisfaction with this… now I understand that not everyone is necessarily happy, but I think we've gone out of our way to create maximum room for privately sponsored refugees," McCallum said.
The department will also do its best to ensure processing the Syrian cases won't mean further delays for refugees from elsewhere, McCallum said.
44,800 refugees to resettle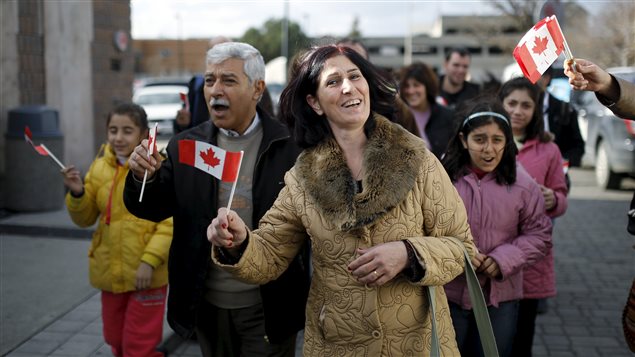 According to the government website tracking the resettlement of Syrian refugees, as of March 28, 26,207 refugees have arrived in Canada since Liberals assumed power in November 2015. The government is reviewing another 13,789 Syrian refugee resettlement applications. Ottawa has finalized 2,468 but the refugees have not yet arrived in Canada.
"We will continue to resettle refugees from Syria throughout 2016 and beyond," McCallum said in his speech at the Plenary Session of the UNHCR's High-Level Meeting in Geneva on Wednesday. "Indeed, by the end of 2016, we hope to have resettled about 44,800 refugees in Canada, the majority of whom – about 30,000 – will be Syrians."
In addition to Syrian refugees, Canada has several multi-year commitments under way including for Congolese, Eritreans and Colombians, said a press release by the Department of Immigration, Refugees and Citizenship Canada.
With files from CBC News and The Canadian Press