An official "La Nina watch" has been issued by the National Oceanic and Atmospheric Administration of the U.S. and it could bring more extreme weather starting in July or August.
El Nino brought disastrous weather events around the world and signs are it is petering out.  "El Nino is a warmer than normal tropical Pacific Ocean and when that happens we have a sort of shift in the jet stream and the wind patterns as the atmosphere responds to that warmer water," says Eric Holthaus, a meteorologist who writes for Slate.com. "That has shifted weather patterns worldwide."
Listen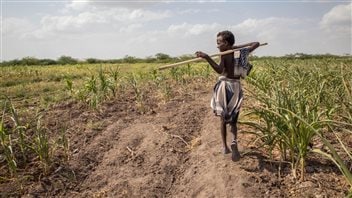 100 million affected by El Nino
Some 100 million people, mostly in Africa, Southeast Asia, Latin America are going through food security and water shortages because of drought linked to El Nino, he notes. That, he expects, will persist for months after El Nino officially fades away.
La Nina could set up 'a bad situation'
But now it looks like the ocean currents will overcorrect, as often happens after El Nino, ushering in La Nina. "Often what happens is we get flooding in those same drought-stricken regions, especially in the tropics," says Holthaus. "We have humanitarian stretched thin throughout all of these weather disaster regions around the world right now.
"So if there are flooding events which end up being more short term and less predictable at the local level, then it really could set up for bad situation over the next few months to a year." La Nina, he says could bring flooding to Southeast Asia, a stronger monsoon in India, drought in Peru and Argentina and fewer typhoons in East Asia.
Canada could get a colder, snowier winter
It could bring more rain to western Canada, some parts of which have faced dry conditions this past year. This would be welcome, as long as it's not too much rain. Catastrophic floods swept parts of the province of western province of Alberta in June 2013. La Nina could also bring colder temperatures and more snow to Canada in the winter period between November and April, says Holthaus.
It's not clear whether El Nino or La Nina are more extreme because of climate change, but what is clear is that taken together, they are causing some unpredictable and extreme weather, and will likely continue to do so.