We like to think that we were removed from barbarian practices of the middle ages, perhaps not quite so removed.  An incident in Canada during the War of 1812 saw men's heads lopped off and paraded on spikes.
At the beginning of the war, Americans thought Canadians would welcome their invading troops as liberators from British rule. They were eventually awakened to a much different reality.  Still there were Americans who had moved north, and some Canadians who were sympathetic to the American ideal and others who were indifferent to the Empire and might be persuaded to the American cause.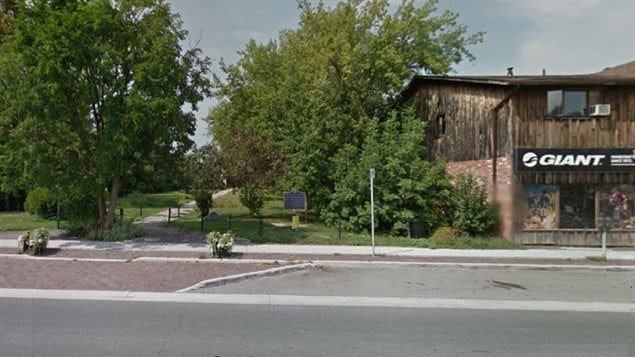 As the war was fought in battles and skirmishes back and forth across what are now the provinces of Ontario and Quebec, serious concerns were raised about "Canadians" who may have joined the American cause and taken up arms against fellow citizens. Any traitors caught could expect the most severe judgement.
In November and December of 1813, British regulars and Canadian militia surprised a number of raiders and insurgents in a house near Chatham (Ontario).  Fifteen of them were residents of Canada.
Joined by four others at York (now Toronto) which was the capital of of Upper Canada, the 19 were charged with high treason..
A court of assize (periodic court administering serious civil and criminal law) opened its proceedings on this day May 23, 1814.  Nearby Ancaster was chosen for the court as apparently the Rousseau Hotel was the most convenient location big enough to hold crowds expected, and possibly as it was located about halfway between the capital, and Chatham where the men were captured.
By mid June the trials were over and 15 death sentences were handed down, four others were freed.  A delay until July 20 was granted to allow any to seek Royal Mercy.
Of those sentenced,  three were instead imprisoned but died of typhus, three others imprisoned, later pardoned and exiled, and one escaped.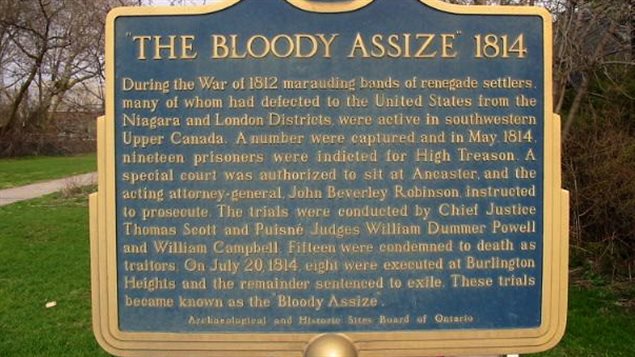 During the war of 1812 marauding bands of renegade settlers, many of whom had defected to the United States from the Niagara and London Districts, were active in Southwestern Upper Canada. A number were captured, and in May, 1814, nineteen prisoners were indicted for High Treason. A special court was authorized to sit at Ancaster, and the acting attorney-general, John Beverly Robinson, instructed to prosecute. The trials were conducted by Chief Justice Thomas Scott and Puisné Judges William Dummer Powell and William Campbell. Fifteen were condemned to death as traitors. On July 20, 1814, eight were executed at Burlington Heights and the remainder sentenced to exile. These trials became known as the "Bloody Assize".
However at least one of the convicted, Jacob Oberholzer (also Overholser) may have simply been the victim of jealous neighbours who wanted his property. Their less than reliable accusations led to his conviction and although spared the death sentence, he later died of typhus as a prisoner.
For eight others however,  the court decided they would be spared the traditional end of being drawn and quartered but on July 20, they were put onto wagons beneath a hastily built mass gallows at Burlington Heights and strangled to death, although one was killed by a heavy brace that fell off the structure while the victims struggled as they strangled.
Not gruesome enough a spectacle, in a horrible aftermath, their heads were cut off and displayed on spikes to discourage any other citizens from treasonous acts.
Though in terms of loss of life, the War of 1812 did not result in staggering numbers, the Bloody Assizes of 1814 as they are known, remains a particularly sad chapter.
On July 20,1814 at Burlington Heights the executions of the 8 remaining convicted traitors is carried out. Death by hanging and decapitation of these convicted traitors ends the Ancaster "Bloody" Assize.   An account by John Ryckman, who saw the executions as a teenager:
I saw eight men executed at a spot just the other side of Locke Street near Dundurn. A rude gallows was prepared with eight nooses, and the victims were placed in two wagons, four in each, and drawn under the gallows. They stood upon boards laid across the wagon, and after the nooses had been adjusted the wagons were drawn away and the unfortunate traitors were left to strangle to death. The contortions of the poor men so shook the loosely constructed gallows that a heavy brace became loosened and fell, striking one of the victims on the head and killing him instantly, thus relieving him from the tortures of the rope. After the men had been duly strangled, their heads were chopped off and exhibited as the heads of traitors.
additional information-sources