If the current pace of Canada's military deployments seems busy now, it is likely to get a lot more hectic and unpredictable in the future, says the country's top soldier.
Speaking at CANSEC 2016, billed as Canada's Global Defence and Security Trade Show, Chief of Defence Staff Gen Jonathan Vance said Canada and its Western allies are facing a multitude of threats ranging from the newly resurgent Russia, to rogue states armed with weapons of mass destruction, to natural disasters in Canada and overseas.
"The environment that we're in is evolving, conflict does not seem to be slowing down," Vance said, addressing the defence industry conference in Ottawa.
No clear wins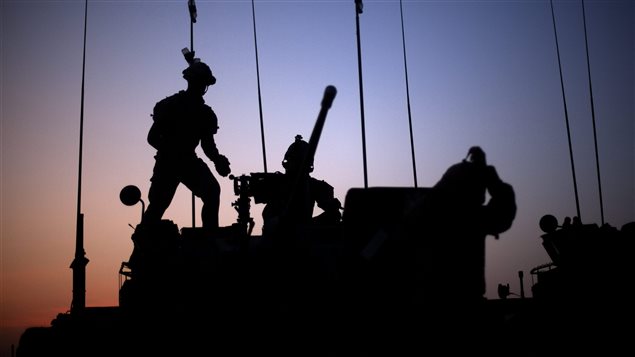 At the same time as demands on the Canadian military continue to grow, it's important to realize that in the modern political, social and economic environment military force alone cannot guarantee decisive results, Vance said.
"Clear wins are hard to achieve and measure," Vance said. "There is no clear break between the war fighting and the political solution, and the rebuilding that needs to occur as a result."
Canada and its allies often find themselves military having to stitch together and reweave  the social, political and economic fabric of the communities and nations that they operate in while they are still fighting, Vance said.
Focussing on conflict prevention
"Given that reality, given the types of threats we are facing do not necessarily lend themselves to cataclysmic wins or losses, I think we have to turn our mind to conflict prevention," Vance said.
Yet, he conceded that Canada and its allies do not have a very good track record in this regard.
"It's very difficult to contemplate the investment in blood and treasure in something that hasn't happened yet," Vance said.  "But we may need to start thinking that way, because, I don't think we'll be able to afford the kind of investment that will take to be in in all the conflicts that are present in the world today and in the future."
For these reasons conflict management and mitigation, and harm reduction to civilians and civilian infrastructure are becoming a very important trend, he said.
Learning to work with others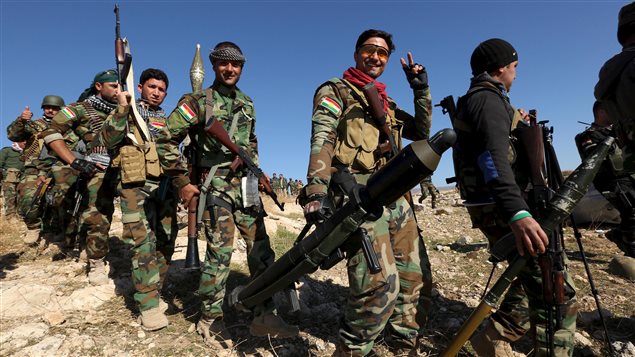 Canada can achieve these goals through coalitions, alliances, UN operations, bilaterally or in rare case through unilateral action, Vance said.
This means that the Canadian military has to become increasingly interoperable not only with its Western allies and with Canada's own government departments and security agencies but also with other forces, he said.
"We need to build the great links that we have with others departments to be able to operate with various levels of government with ease, with allies to be able to operate on very short notice in emergency conditions all the way through to long range campaign management efforts," Vance said.
'Think before shooting'
Canada has to have a better understanding what causes conflicts, he said.
"We have to do a better job of thinking and understanding before we start shooting," Vance said. "We do not want to go places in the world where we make enemies because we made friends with the wrong people."
Iraq mission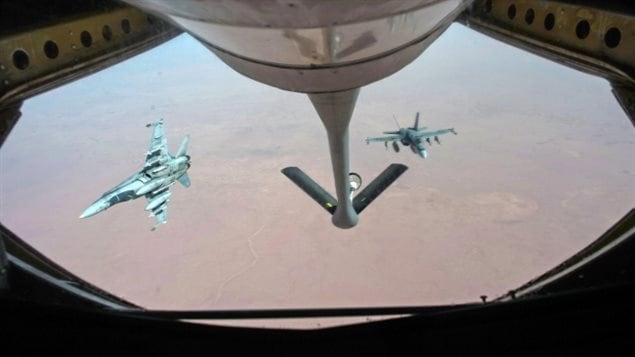 In the meantime, Canada's military is keeping up a hectic deployment tempo.
Canada will have about 330 special forces soldiers deployed in Northern Iraq by mid-summer Vance, said.
While Canada withdrew its fighter jets active combat operations in Iraq and Syria, its Aurora spy plane provides vital intelligence to coalition forces, feeding targeting information to help coalition partners degrade Islamic State forces in Syria and Iraq, he said.
And Canada's Polaris refueling planes support coalition air strikes.
The mission to train and assist Iraqi forces has been key to Canada's approach in Iraq with the expertise developed in Afghanistan, he said.
"We learned in Afghanistan that it's better for local forces to achieve their security aims than it is for others to hand it to them," Vance said.
As the battle to retake the city of Mosul, Iraq's second largest city controlled by ISIS, looms in the future, Canada's efforts to support Kurdish peshmerga forces who control positions north and east of the city become increasingly important.
In Baghdad, Canada has deployed a ministerial liaison team led by a Canadian brigadier-general  to help the national government of Iraq to manage more effectively the forces the international coalition is training, he said.
Largest deployment since Afghanistan
Canada is also looking for opportunities to increase military cooperation in the wider Middle East region.
"We've got forces deploying to Lebanon and Jordan to specifically help and support their border forces," Vance said. "By the end of the summer we'll have about 830 people in theatre, it's our largest international commitment since we were in Afghanistan."
The Canadian military is also active in other regions of the planet.
Shoring up Eastern Europe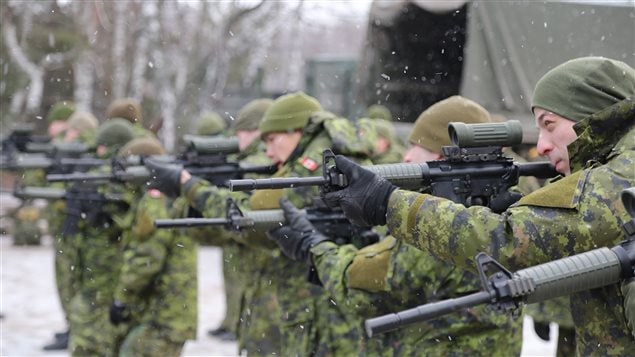 NATO faces a unique combination of conventional and hybrid threats in Europe, Vance said.
"Resurgent Russia, ignoring international norms and the rule of law is now facing a more determined NATO posture, going from assurance and contemplating a more deterrence related approach," Vance said. "And we'll see this materialise, perhaps, culminate in some decisions this summer at the Warsaw summit, where NATO heads of government will decide on the way ahead."
Canada has a 220-soldier strong land task force as part of Operation Reassurance on NATO's eastern flank to reassure nervous former Soviet satellite states in the face of newly assertive Russia, a maritime task force with the Royal Canadian Navy ships rotating through NATO's maritime areas. The Royal Canadian Air Force participates in air policing operations to support NATO's Eastern European members.
About 200 Canadian soldiers are also deployed in Ukraine as part of Operation Unifier designed to train the Ukrainian military in the face of a threat posed by Russia.
New challenges
Canada also plays a key role in the 30-year-old Multinational Force and Observers peacekeeping mission on the Sinai Peninsula designed to monitor and verify the peace treaty between Egypt and Israel. That classic peace support mission now faces a growing threat from the ongoing insurgency led by an offshoot of the ISIS.
Canadian Armed Forces are also busy protecting the North American continent as part of NORAD, a bilateral U.S.-Canadian command, designed to protect the North American airspace and now also its maritime borders, Vance said.
"I expect in the future we'd be looking at all perils and threats to the continent and where NORAD may very well become North American defence as opposed to simply aerospace defence in the face of increasing Russian capability," Vance said.
The Canadian military also has had the task of assisting Canadian authorities as well as international partners in disaster relief operations in Canada, Nepal, Philippines and West Africa.
"We're enabling others because we're so well-trained and so well-equipped, we are able to enable others and teach, and train, and help people manage their own destinies," Vance said.