It was June 1938. Kids all across North America were eager to get their hands on a new comic book.
It was called Action Comics, and featured on the cover was a new character who was also an entirely new type of character. Created by Canadian-born Joe Shuster, and American Jerry Siegel, the character was not just a good-guy hero, but a 'superhero'..a character with super powers.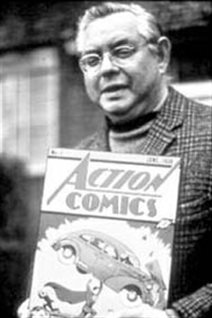 Comic books were gaining in popularity in the late 1930's  and Action Comics No1 is often regarded as spurring that interest and heralding the golden age of comic books..
The first edition of Action Comics which featured the new Superman on the cove,r was actually an anthology of eleven stories, but it was Superman that caught on and quickly became extremely popular. The first run of 200,000 copies quickly sold out.
Although there are varying claims of actual publishing dates, e.g., April 18, May 31, it would have been June when the new comic book was distributed to go on sale in stores.
Superman went on to become one of the most popular superheroes ever. Although the first issue and several afterward were anthologies, with a superman story, Shuster and Seigel's creation soon had it's own dedicated Superman comic, and became a syndicated newspaper strip the following year.
The popularity never waned and it later became a popular TV show in the 1950's.  Indeed Superman is believed to have inspired the entire genre of superhero.
The introduction of Superman and its popularity gave a huge boost to the entire, still relatively new industry of comic books.
Backlash against the corruption of youth by comic books
But, as the popularity of the genre grew, there was also a backlash against comics as being somehow bad for children.
In an article on the Penn State University website, Jamie Coville notes a highly critical editorial  against the genre from the Chicago Daily News book reviewer Sterling North that was printed in May 8th, 1940 and states
"Badly drawn, badly written, and badly printed – a strain on the young eyes and young nervous systems – the effects of these pulp-paper nightmares is that of a violent stimulant. Their crude blacks and reds spoils a child's natural sense of colour; their hypodermic injection of sex and murder make the child impatient with better, though quieter, stories. Unless we want a coming generation even more ferocious than the present one, parents and teachers throughout America must band together to break the `comic' magazine."
Coville notes that a psychiatrist Dr Fredric Wertham had also began a nationwide campaign against comic books saying they were dangerous for children. The late 40's campaign inspired Detroit's Police Commissioner to  examine comic books and declare they were "Loaded with communist teachings, sex, and racial discrimination".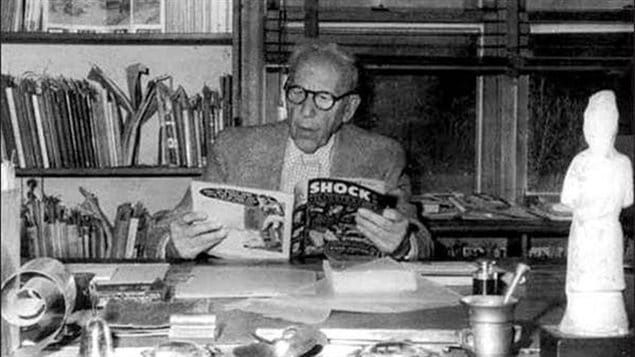 Presssured into action, various levels of government in the US enacted a confusing variety of laws to try to regulate comics.
There were even mass burnings of comics organized.
In Canada  in 1948, two young boys acting out, foolishly shot at a car and killed a man. It turned out they were avid fans of comics. This fuelled the anti –comic furor eventually resulting in a law to ban crime comics and pulp fiction novels.  Passed in 1949 the law deemed obscene, "any publication a dominant characteristic of which is the undue exploitation of sex, or of sex and any one or more of the following subjects, namely, crime, horror, cruelty and violence".
Still on the law books, under the section corrupting morals (section 163), it reads in part"
163 (1) Every one commits an offence who
(a) makes, prints, publishes, distributes, circulates, or has in his possession for the purpose of publication, distribution or circulation any obscene written matter, picture, model, phonograph record or other thing whatever; or
(b) makes, prints, publishes, distributes, sells or has in his possession for the purpose of publication, distribution or circulation a crime comic.
(7) In this section, "crime comic" means a magazine, periodical or book that exclusively or substantially comprises matter depicting pictorially
(a) the commission or crimes, real or fictitious; or
(b) events connected with the commission or crimes, real or fictitious, whether occurring before or after the commission of the crime
By 1954, Dr Wertham published a book called Seduction of the Innocent in which he blamed comics for the rise in juvenile delinquency, and also alleged they inspired homosexuality (Robin's devotion to Batman, his bare legs) and wrong ideas about women's place in society, (Wonder Woman).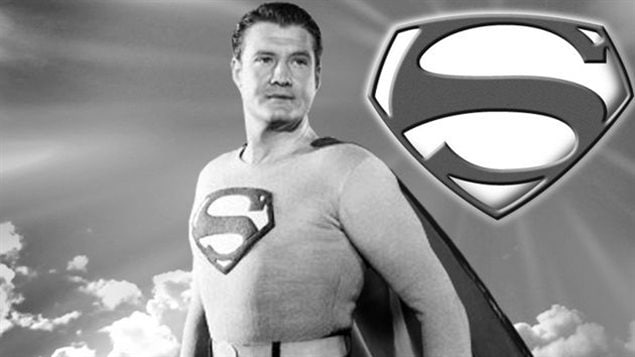 Eventually that led to a self-disciplined analysis by publishers and guidelines called the Comics Code of Authority.
While it calmed the backlash somewhat, it did not stem it entirely, but then in the 50's TV began taking over from comics, which began a decline.
Nevertheless, it is often stated that it was Shuster and Siegel's Superman  and its appearance in magazine format that gave an enormous boost to the comic industry.
Multi-million dollar sale of Action Comics No 1
As a point of interest a pristine copy of Action Comics No 1 sold  for over $3.2 million dollars on a eBay auction in  August 2014.  This was far and away the highest price paid for a comic book. Another copy of Action Comics No 1, but in less than pristine condition, sold for over $2 million in 2011.
additional information-sources
Canada Justice Law website (section 150;subsection 163)
PSU: the attack on comic books- J Coville
Comic Book Legal Defence Fund CBLDF- comic censorship