A Canadian aircrew continues its daring mission to retrieve two people in need of urgent medical attention from a research station at the South Pole in the dead of the Antarctic winter.
The Calgary-based crew – a pilot, co-pilot, flight engineer and medical worker – along with two patients has returned safely to the British Antarctic Survey's Rothera Station after leaving the U.S. National Science Foundation (NSF) Amundsen-Scott South Pole Station early Wednesday morning, according to the NSF.
The medical evacuation mission was launched earlier in the month after one of the seasonal employees at the Amundsen-Scott station fell ill, said Peter West, spokesman for the NSF.
(click to listen the interview with Peter West)
Listen
"After consultations with medical professionals, which we always do, senior management here at the foundation opted to bring that person out of Pole to a place where he could get a level of care that is not available at the South Pole station," West said in a telephone interview with RCI Wednesday morning. "We have a doctor there, we have a physician's assistant, and we have the capability to do telemedicine with the University of Texas medical branch, but it was felt that this person's condition really merited them coming out to a hospital where the level of care was higher."
Then a second employee fell sick and it was decided to use the occasion to get him out too.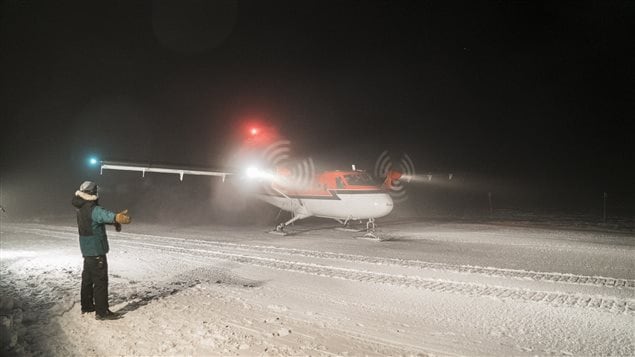 On June 14, two Twin Otter turboprop planes operated by Alberta's Kenn Borek Air left Calgary, flew through the United States, South America to Rothera Station.
On Tuesday, one of the Twin Otters then flew to the South Pole to pick up the patients, employed by the logistics contractor Lockheed Martin, while the second Twin Otter remained in Rothera in case a search and rescue mission was needed.
In virtual darkness and with temperatures reaching –60C, one of the planes flew almost 10 hours to reach the South Pole and then made the same journey back.
Both patients now will be flown to a medical facility that provides a level of care not available at the South Pole. NSF is not discussing any details of the patients' medical conditions or providing any personal details, West said.
Dangerous work
There have been only three emergency evacuations from the South Pole's Amundsen-Scott station since 1999.
Kenn Borek Air flew the planes for two of those rescue missions, and stepped up once again this time, West said.
The Twin Otters, which are also Canada's main workhorses in the Arctic, can fly in temperatures as low as –75C. But flying in such conditions is still very dangerous.
In 2013, three Canadians from Kenn Borek Air died during an Antarctic flight when their plane crashed in the Queen Alexandra mountain range.