Prime Minister Justin Trudeau welcomed U.S. President Barack Obama and Mexico's President Enrique Pena Nieto in Ottawa Wednesday as the three North American leaders prepare to kick off the so-called Three Amigos Summit.
"Good to see you," Obama said to Trudeau as the two shook hands at the National Gallery of Canada, for what is likely to be his last official visit to Canada as U.S. president.
Obama arrived in Canada aboard Air Force One which touched down at the Ottawa airport just as Trudeau was greeting Pena Nieto back at the National Gallery.
Obama was received on the tarmack by Canada's Governor General David Johnston, Foreign Affairs Minister Stéphane Dion, U.S. Ambassador to Canada Bruce Heyman and his wife Vicki, Canadian Ambassador to the U.S. David MacNaughton, and Ottawa mayor Jim Watson.
Green summit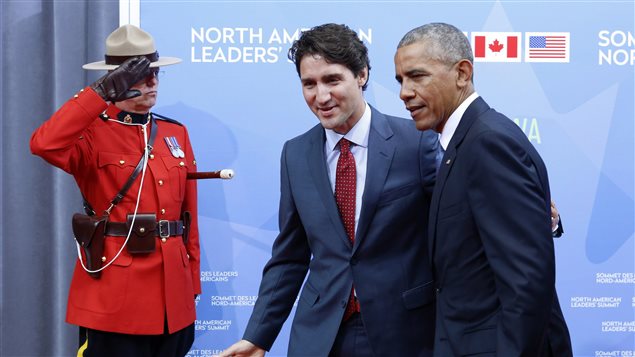 The summit is expected to focus on clean energy and climate change.
The leaders of the three nations, which are part of the North American Free Trade Agreement (NAFTA), are expected to announce "a comprehensive North American climate, clean energy and environment partnership" to achieve 50 per cent clean power generation across North America by 2025, including renewable energy, nuclear power, carbon capture and storage and increased energy efficiency.
Trudeau and Pena Nieto, who has been on a state visit to Canada since Monday, hit the reset button Tuesday by removing major irritants in the relations between the two nations ahead of today's trilateral meeting with Obama.
Canada agreed to lift its controversial visa requirement for Mexican nationals by December 1. In exchange Mexico agreed to end its 13-year restriction on Canadian beef imports, imposed after a case of mad cow disease was discovered in Canada, by the beginning of October.
Shadow of protectionism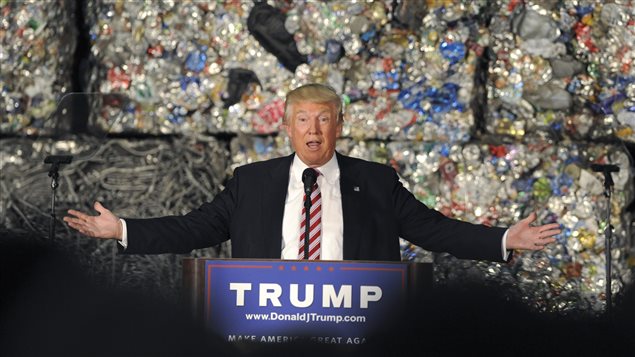 But a scheduled joint press conference is also sure to feature questions on the future of NAFTA itself, after the presumptive Republican nominee for the U.S. presidency delivered a foreign trade policy speech at a scrap metal factory in Monessen, Pennsylvania, on Tuesday.
"I'm going to tell our NAFTA partners that I intend to immediately renegotiate the terms of that agreement to get a better deal for our workers," Trump said, adding that if Trudeau and Pena Nieto don't agree to more favorable terms, "America intends to withdraw from the deal."
Trump also argued for scrapping a 12-nation Pacific trade deal, calling it the "greatest danger yet" to U.S. jobs, while Obama is expected to push Trudeau to ratify the Trans-Pacific Partnership, which was signed by his Conservative predecessor in the middle of the federal election campaign last fall.
Trump's remarks, coming on the heels of the United Kingdom vote to leave the European Union, echo the anti-free-trade rhetoric employed by U.S. Democratic presidential contender Bernie Sanders in attacks against front-runner Hillary Clinton in the Democratic primary debates.
Sanders' attacks have forced even the comparatively pro-trade Clinton to criticize the 22-year-old accord.
A recent poll suggested only a quarter of Canadians thought NAFTA benefited Canada, while more than a third wanted the free trade agreement renegotiated.
Coordinating peacekeeping?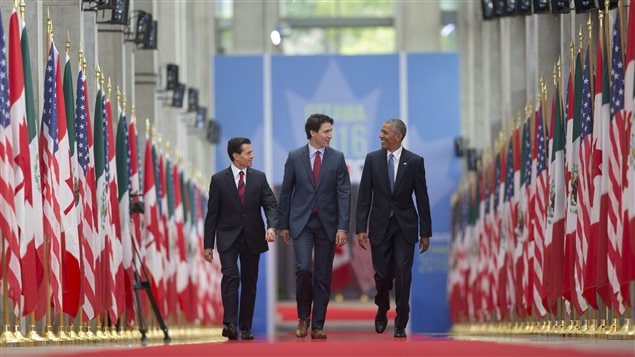 The White House signalled Tuesday that it's also looking to demonstrate Western military unity internationally, something experts say is even more important in the wake of Britain's decision to leave the European Union.
Specifically, the U.S. wants support "co-ordinating peacekeeping around the world," Mark Feierstein, a senior director at the U.S. National Security Council, said Tuesday.
Returning to Canada's traditional role as a peacekeeping nation was one of the themes Trudeau campaigned on, but it's not clear whether Canada has the military resources to commit troops to a peacekeeping mission, while also meeting NATO calls to head a contingent in one of the Baltic states, keep its training mission in Ukraine, as well as expand its training mission in Iraq.
But helping Mexico to build up its peacekeeping capacity was specifically mentioned by the Prime Minister's Office in the security and defence cooperation agreements they signed yesterday.
"Canada is prepared to further its support to Mexico in the development of a peacekeeping training institution by facilitating access to expertise from the Canadian Armed Forces training schools," said the document. "Canada will also significantly increase Canadian Forces language training course offerings and will continue to provide military professional development and senior military staff officer training through the Department of National Defence's Military Training and Cooperation Program."
One of the possible destinations for Canadian peacekeepers could be Colombia, which recently ended a brutal, decades-long war with Marxist rebels and is now looking for a United Nations ceasefire observer force — something Canada and Mexico are considering as a joint venture.
"The leaders will have an opportunity to review developments in the Americas — for example, in Colombia, where the FARC and the government are on the verge of finalizing a historic peace accord, and in Central America, where all three countries are supporting the Northern Triangle countries to reduce crime and violence, and enhance economic opportunity," Feierstein noted.
The trio are to hold a joint news conference at the conclusion of the summit this afternoon.
After the summit, Trudeau is scheduled to hold a bilateral meeting with Obama, who will cap his daylong visit to the Canadian capital with an address to Parliament.
With files from CBC News and The Canadian Press