The Liberal government plans to introduce legislation for Canada to finally accede to the United Nations' Arms Trade Treaty (ATT), Foreign Affairs Minister Stephane Dion announced Thursday.
The treaty came into force in December 2014 and seeks to regulate the sale of conventional arms, anything from small arms to tanks, fighter jets and warships, to minimize the humanitarian impact of the global arms trade.
"The unregulated global trade in arms has exacerbated conflict, regional tensions and human rights abuses," Dion said in a statement.
Former Conservative Prime Minister Stephen Harper refused to sign the treaty in September 2013, citing concerns about how it would impact domestic gun owners, hunters and sports shooters.
"Today, Canada is the only NATO ally and only G7 partner not to have signed or ratified the treaty, the previous government claiming that it might affect domestic gun laws, which is completely and categorically untrue," Dion said. "Accession to the treaty will reflect Prime Minister Justin Trudeau's commitment to multilateralism."
'Important step forward'
Dion's announcement was welcomed by both Canada's defence industry and by peace groups.
"Today's actions are an important step forward," said Christyn Cianfarani, president of the Canadian Association of Defence and Security Industries (CADSI).
"The government has signalled that it wants Canada to be in line with our allies when it comes to the UN ATT and we support that objective and the impending process to ratification."
Cianfarani said her association, which is the national industry voice of more than 800 Canadian defence and security companies, has been supporting this initiative for quite some time and in March 2016 released its statement in support of the UNATT.
Cesar Jaramillo, executive director of Project Ploughshares, said he "warmly welcomes" Canada moving forward with the accession and ratification of the treaty.
"But there are some items that still require attention," Jaramillo said.
'Mixed messsages'
Virtually at the same time as the Liberals announced that they plan to become party to the ATT, they are standing their ground on the $15-billion sale of sophisticated LAV 6.0 light armoured vehicles to Saudi Arabia, Jaramillo said.
Canada is sending mixed messages when it claims that it uses high standards for arms exports but at the same time approves the sale of arms to a regime with such a bad human rights record, Jaramillo said.
"If Saudi Arabia is eligible who would not be?" Jaramillo said.
Canada already complies with all 28 articles of the treaty but two, official said.
Article 7 of the ATT requires that each state party take a number of factors into consideration prior to authorizing the export of arms.
"We already take these factors into account, but this is neither explicit nor formalized in our current export criteria," Dion said.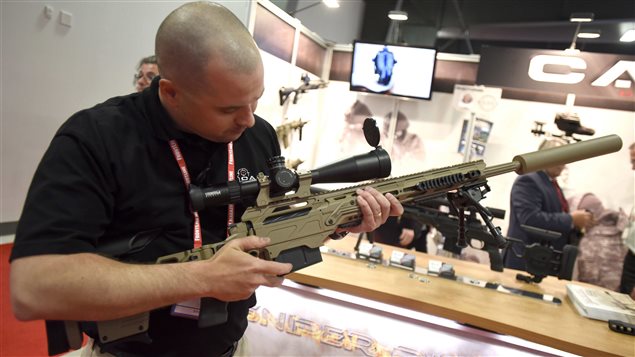 The government will need to amend the Export and Import Permits Act to make explicit reference to the ATT criteria and to create a legal requirement for any minister of foreign affairs to take them into account as well as outlining a clear policy on overriding risk, he said.
Article 10 of the UN treaty requires each state to "regulate brokering taking place under its jurisdiction."
However, currently, the federal government does not regulate brokering – when a Canadian facilitates arms transfers between countries other than Canada.
Because this practice has never been regulated, the government has no idea how many brokers there are or where they are operating.
Global Affairs Canada will consult with industry and NGOs to determine how to implement brokering controls efficiently, Dion said.
"After the consultations are completed, I will introduce legislation," Dion said. "Once the legislation and the regulations are in place, I will submit an instrument of accession to the UN secretary general. The aim is that at the same date, next year, Canada will be an ATT state party."
Increase transparency
The government has also announced another measure to increase the rigour and transparency of Canadian export controls, he said.
"The annual reports on export permits and controls will be clearer, more user friendly and more informative, and they will be tabled on time," Dion said.
The defence industry is working closely with the government so that any changes to the Canada's export control regime are transparent and predictable and do not put Canadian companies at an unfair competitive disadvantage, said Cianfarani.
"The Government of Canada sets the rules and our industry will continue to comply fully with any changes," she said.
Jaramillo said ensuring the transparency of the arms export authorization process is critical.
"Canada can and should be raising the bar higher than just the bare minimum required by the treaty," Jaramillo said. "The requirement set out in the treaty is a floor not a ceiling."