Alberta has announced that it will phase in a minimum hourly wage of $15 by 2018. Minimums vary from a low of ten dollars and change in seven provinces to the top minimum wage of $13 in the northern territory of Nunavut.
Four million earn close to minimum
About one quarter of Canadian workers or more than four million people earned close to the minimum wage in 2015.One-third of women earn less than $15 per hour compared to 22 per cent of men. The numbers are higher for racialized Canadians and other marginalized groups.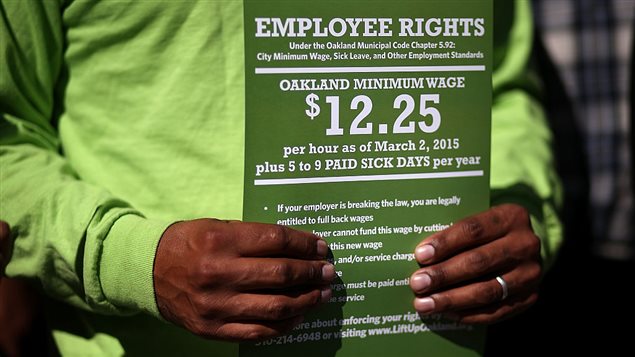 Celebrating the Alberta announcement was the Canadian Labour Congress, to which most Canadian labour unions are affiliated. It called on the federal government and the other jurisdictions to make $15 the standard minimum hourly wage across the country.
Campaigns for a $15 minimum have bloomed across North America for several years with wins in California, New York, Seattle and Washington, D.C.