Although using farm animals to tend city parks is not uncommon in Europe, the idea is coming slowly to Canada
A pilot project involving goats to reduce invasive weeds in Calgary, Alberta, parks has come to an end.
The three week pilot project was initiated by the western Canadian city to evaluate the cost and effectiveness of a "green" alternative to gas-powered machinery and toxic herbicides to control the spread of invasive weeds in Confluence Park.
Although final evaluation has yet to be made, it seems to have been a great success and a hit with residents. The 106 goats in Confluence Park were able to chew up weeds in otherwise difficult to reach spots.
Jeanette Hall, shepherd and owner of Baah'd Plant Management and Reclamation quoted by CBC said," The goats have done a phenomenal job, we've done everything from Canadian thistle to goat's beard and tumbleweed mustard. There are about 22 different weeds here in the park that they've been able to tackle and help us get a little bit more manageable."
Unlike other animals, the goats acidic stomachs means weed seeds are destroyed and not merely propagated elsewhere through the animal's droppings. Hall said the company goats usually return to an area a few times a year to ensure weeds are kept in check and that the effects are compounded by the third or fourth year.
Meanwhile across the country in Montreal Quebec, a similar plan is being tried.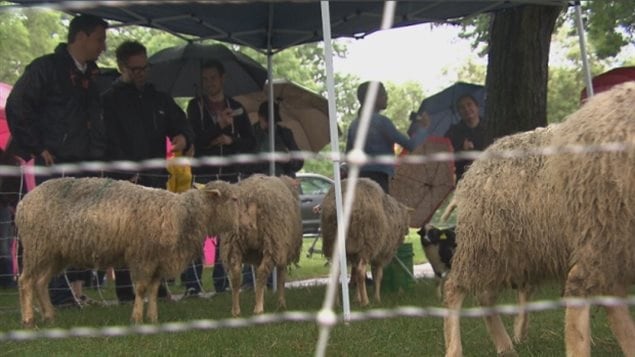 This time sheep are being tested as "green lawnmowers" in a couple of city parks.
Six ewes and two lambs are currently in a city park for a month-long environmentally-friendly project there to replace greenhouse gas emmissions from lawnmowers.
The organizers say the project is somewhat wider in scope with picnics, yoga classes and other educational workshops planned around the presence of the sheep.
Marie-Ève Julien-Denis, one of the organizers says it's a chance for urban dwellers who normally don't get a chance to get out of the city, to see some farm animals up close. Residents will also get to learn about cheese making, wool, and where some of their meat comes from.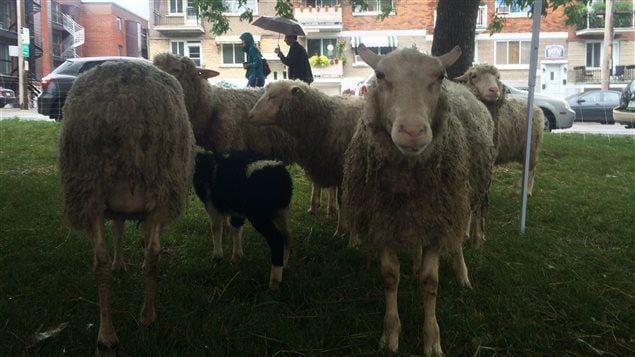 The mayor of the borough of Rosemont- La Petite-Patrie, where the programme is taking place, says he's been trying to bring a bit of agriculture back into the city. He cites an earlier effort when a community henhouse was begun a few years ago.
"Nous voulons faire la démonstration qu'il est possible de réintégrer l'agriculture dans la vie des Montréalais", he said (We want to show it is possible,to reintroduce agriculture in Montrealers' daily way of life)
The sheep will also be herded along sidewalks and alleys to a couple of other parks in the borough to do a little trimming there as well over the course of the project.
Organizers say that in addition to noise reduction from elimination of gasoline-powered mowing equipment and the carbon emissions, the sheep "emissions" make great fertilizer for the soil. The manure will be collected and distributed to community garden projects in the borough.
Julien-Denis says although this time it's only a month-long project and the sheep will return to their farm north of the city,  she hopes the concept will be expanded to other city parks next year.