Canada's national tourism marketing body is denying allegations by a Chinese TV star that it pressured him to remove an episode discussing the plight of Canada's Indigenous Peoples and Quebec separatism days before the first official visit to China by Prime Minister Justin Trudeau.
Gao Xiaosong, a well-known Chinese singer, songwriter, director and a former judge on China's Got Talent, says officials with Destination Canada pressured him to remove part of a program about Canada that featured an interview with a Canadian First Nations chief and discussed Canada's treatment of its Aboriginal citizens, Radio Canada International's Chinese language service reported Monday.
In a post on the Chinese social media platform, Weibo, published on Saturday Aug. 27, Gao, who has more than 38 million followers, alleged that officials with Destination Canada, pressured the iQiyi online video streaming site, which runs Gao's popular Xiaosong Qi Tan weekly show, to pull off the air Friday's broadcast.
The first episode featuring Niagara Falls and Vancouver had aired on Aug. 19 and had been played over 4.5 million times.
'Grave consequences'
"I hope you understand, official organizations absolutely cannot discuss Canada's Aboriginal issues and Quebec independence, it's like discussing Tibet independence in China," an official of Destination Canada, a crown corporation formerly known as the Canadian Tourism Commission, is alleged to have written in Mandarin, in an email to iQiyi.
"It's really serious. If this is not solved adequately, it will become a political issue and will have very grave consequences."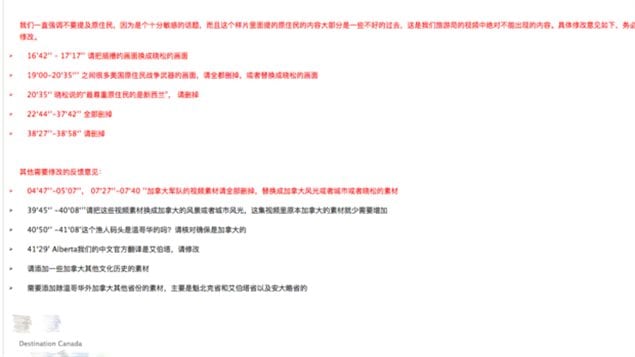 'Focus on Canadian tourism'
Destination Canada denies the allegations of censorship, but said no one from the corporation's management was available for an interview on Tuesday.
In an email sent to RCI, officials with the crown corporation said "Destination Canada uses innovative, targeted marketing strategies to reach potential travellers and inspire them to visit Canada."
Destination Canada engaged Ctrip, the largest online travel agency in China to produce internet advertising, including four tourism videos encouraging Chinese tourists to come to Canada, a company spokesperson wrote.
Ctrip in turn subcontracted Gao and iQiyi to produce and broadcast the four videos, but  iQiyi owns the contract with Gao, the spokesperson for Destination Canada said.
"As a client of the media firm, Destination Canada can suggest changes to the videos that are produced," the spokesperson said. "Destination Canada made recommendations to ensure a focus on Canadian tourism, and these suggestions were accepted by the production company."
"Destination Canada did not ask that these episodes were pulled or removed, we suggested changes," the company spokesperson added.
Gao has denied that Destination Canada was in any way involved in the production of his program.
'Paid advertising'
https://www.youtube.com/watch?v=9W2KI4b4P9w
"The changes and removals Destination Canada demanded account for up to 20 minutes. Even if we had a contract, which we don't, the harm to the episode would be unacceptable," he posted on Weibo.
But Destination Canada contradicted Gao's claim.
"Destination Canada sees this type of contract as a 'paid editorial.'  In advance of production, Destination Canada provides a briefing and guidelines.  Destination Canada respects the tone and manner of our content partners," the company said.
Nevertheless, the controversy was quickly picked up by both official and unofficial Chinese media on the eve of Trudeau's planned arrival in China Tuesday.
Thousands of Chinese Internet users got involved in the debate, most roundly criticizing Canada for the perceived double standards. The Weibo account of Canada's embassy in China has been bombarded by comments from thousands of Gao's fans.
Bad timing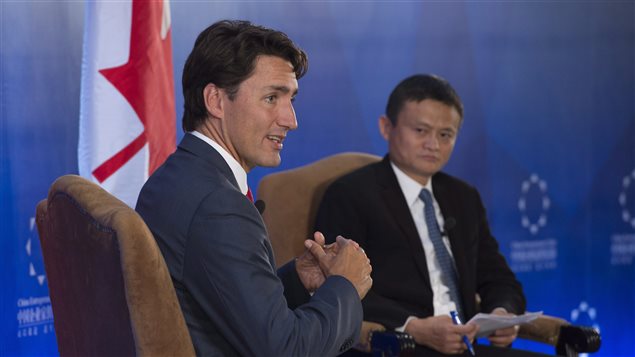 The controversy comes at a particularly sensitive time for Trudeau who has made repairing Ottawa's strained relationship with the country's First Nations one of the cornerstone policies of the new Liberal government.
Adding to the awkwardness of the situation, Trudeau was expected to raise the issue of human rights, particularly the issue of freedom of expression, in his discussions with Chinese officials amid allegations that Beijing has launched a new campaign to root out dissent in China and in Chinese communities across the world, including Canada.
A spokesperson for iQiyi said the site was still trying to find a way to air the episode as quickly as possible.
"We do receive suggestions on modification of the content from the Canadian side, while Mr. Gao adheres to the original version," iQiyi public relations representative Liu Dan told the Global Times newspaper run by the Communist Party.
With reporting by Wei Wu of RCI's Chinese language section