We Canadians like to pat ourselves on the back (quietly, of course) about how civilized we are (behaviour at a lot of hockey games excepted).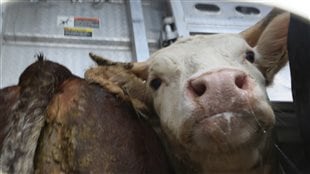 Sometimes, of course, we get a little carried away.
Aren't we the ones who excuse ourselves when somebody bumps into us?
Still, a lot of our (always temperate) self-aggrandizement is deserved.
We tend to mind our own business and don't pry.
Need proof?
Go to a dinner or cocktail party in Canada and see how many of the other guests even ask you what you do for a living. (Hint: the answer likely rhymes with hero.)
Canadians, I am proud to say, tend to take people as they are–in this very moment.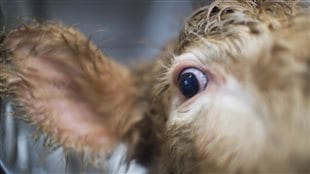 On the other hand–and for animal advocates it's a very large hand–it appears we have a long way to go when it comes to how we treat farm animals, the animals that many of us eat to say alive.
Over 750 million of those animals are killed for food every year, virtually all of them transported at least once in their lives, most of them in giant trucks rumbling across our vast spaces.
Depending on the species, those animals are not fed, offered water or given a rest for up to 52 hours at a time.
It's this kind of treatment and the lack of regulations about those trips in trucks that brought animal rights advocates to the streets in Toronto, Calgary and Vancouver on Monday.
It's the kind of treatment that has a woman named Anita Krajnc on trial near Toronto, charged with criminal mischief for interfering with a farmer's "property."
Krajnc gave water to dehydrated pigs aboard a transport truck.
The trial continues and its affect on the animal rights movement remains unclear.
One of those demonstrating Monday was Anna Pippus (photo at the top of the story), an attorney and director of farmed animal advocacy for Animal Justice, an animal advocacy group.
She spoke with RCI by phone from her home in Vancouver.
Listen