Canadian aid workers are adding their voice to a growing chorus of outrage following Monday's deadly attack on a humanitarian convoy that prompted the U.N. to suspend all aid shipments into Syria and brought the latest peace efforts to the brink of collapse.
The attack at Urum al-Kubra, near Aleppo, on Monday evening destroyed 18 of 31 trucks in the aid convoy and killed about 20 civilians, including a senior local official of the Syrian Arab Red Crescent, according to reports from the ground.
"We are really outraged and saddened," said Canadian Alexa Reynolds, deputy director with CARE's Syria response team in Jordan. "I don't think there was an enormous amount of optimism that this cession of hostilities would hold, but despite that, it's incredibly disappointing to see this turn of events."
'Deeply shocked'
CARE continues to call on all of the relevant parties to find a political solution to the conflict that has killed more than 350,000 people and uprooted 11 million Syrians since 2011, she said. Her sentiment was echoed by officials at Oxfam Canada.
"There is absolutely no excuse for the shocking attack yesterday on an aid convoy in rural Aleppo," said Andy Baker, Oxfam's lead for the Syria Crisis Response. "The aid workers on the convoy were delivering much needed help to thousands of people and Oxfam is appalled and outraged that many of them lost their lives doing so."
Possible war crime
A statement by Médecins Sans Frontières Canada/Doctors Without Borders (MSF) Canada said they were "deeply shocked" by the attack.
"MSF strongly denounces this attack, another example of the continuous disregard paid to the basic rules of war in the Syrian conflict, and demands that all warring parties involved in the conflict in Syria respect humanitarian workers and civilians, health facilities and civilian infrastructures," the medical aid group said in a statement. "We demand that the major international powers involved in this conflict assume their responsibilities and take more concrete steps to put an end to all attacks against civilian infrastructure, including medical facilities and aid convoys."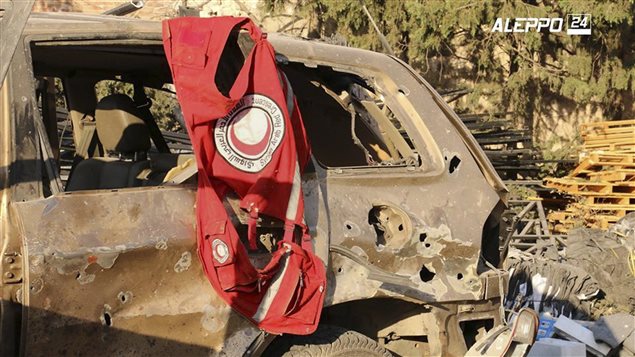 According to the witnesses on the ground, the attacks came from the air, just hours after the government of President Bashar Al-Assad declared the end of a week-old U.S.-Russia brokered cessation of hostilities.
Russia and the Assad government have both insisted that their forces were not involved in the attack.
Russian defence ministry spokesman Igor Konashenkov said that experts studying video taken at the scene they "did not find any signs of munitions hitting the convoy."
"Everything shown in the video is the direct result of a fire which mysteriously began at the same time as a large scale rebel attack on Aleppo," he said.
'Absolutely intentional'
After the Russian explanation, the UN revised its earlier statement, removing wording on "air strikes," which had implied either Russian or Syrian government complicity in the attack because the rebels don't have an air force, and replacing it with references to unspecified "attacks."
"It's impossible to know at this time exactly who is responsible for this bombing," Reynolds of CARE Canada said, speaking on the phone from Amman, Jordan. "But what we understand and what we have seen this was absolutely intentional."
With the Syrian military announcing the ceasefire over and an escalation in violence across the country, there is the real risk that Syria will fall even further into the abyss, said Oxfam.
"Russia and the U.S. must immediately rein in their allies on the ground, provide effective guarantees for aid workers to deliver assistance in safety and demand accountability for this attack," said the statement by Ofxam.
Politicization of aid
The suspension of all aid convoys by the UN means that hundreds of thousands of Syrians are in desperate need of help, Reynolds said.
"First of all, this means that people who are in the besieged areas and who really hoped that the cessation of hostilities might make it possible for us to reach will continue to receive nothing," Reynolds said. "And these are communities that were already severely short on food supplies, on medical supplies and people living with next to nothing, already extremely high levels of poverty."
In other parts of the country, where aid agencies already had access and were able to send aid convoys, the stoppage means that there will be even less access and even less ability to serve those communities, Reynolds said.
Aid agencies are incredibly concerned about the politicization of aid, she said.
"This is something that we pay attention all the time," Reynolds said. "We make every possible effort to ensure that our programs reach people in a way that is non-discriminatory and impartial. But we're working in a context where things are increasingly and very definitely politicised."