Canada's economy will grow at a slower than expected pace in 2016, the Organization for Economic Co-operation and Development said today as it also trimmed its outlook for the global economy.
In its latest interim economic outlook, the OECD said it expects the Canadian economy to grow by 1.2 per cent in 2016, half a percentage point lower than its outlook in June.
"The marked slowdown in world trade underlines concerns about the robustness of the economy and the difficulties in exiting the low-growth trap," said OECD Chief Economist Catherine L. Mann. "While weak demand is surely playing a role in the trade slowdown, a lack of political support for trade policies whose benefits could be widely shared is of deep concern."
Canada's economy is projected to grow by 2.1 per cent in 2017, down from OECD's earlier estimate of 2.2 per cent.
The OECD cut its global forecast to 2.9 per cent for this year from its June estimate of 3.0 per cent. That's slightly below the 3.1 per cent growth seen last year.
Global growth next year is predicted to 3.2 per cent, down from an earlier forecast for 3.3 per cent.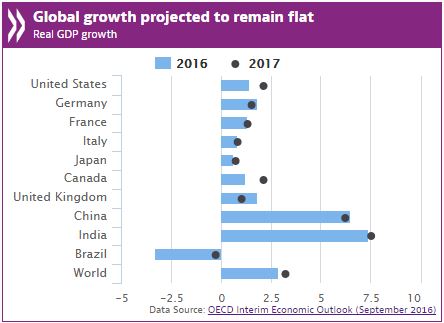 Exceptionally low – and in some cases negative – interest rates are distorting financial markets and raising risks across the financial system, says the OECD outlook.
"Monetary policy is becoming over-burdened," Mann said. "Countries must implement fiscal and structural policy actions to reduce the over-reliance on central banks and ensure opportunity and prosperity for future generations."
With files from The Canadian Press