Rail Deck park, as it's known now, got unanimous approval yesterday in Toronto City Hall for $2.4 million (Cdn) for design work, but only after some bargaining. Suburban councillors are not as enthusiastic about the proposed 8.5 hectare landmark in the downtown core, at the foot of the CN Tower. It is estimated it will cost $1.05 billion to build.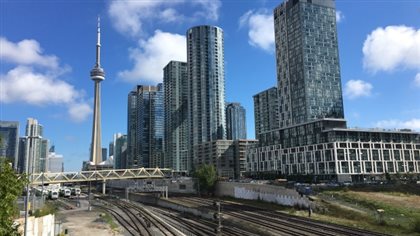 "it's the last chance, to do something really bold in terms of a big new park"
Councillor Giorgio Mammoliti told the council meeting Wednesday morning, that he would only support the Rail Deck Park if money was invested in suburban parks. "I'll make the city a deal," he told council. "If we in the suburbs can get our playgrounds cleaned up every day, get needles that are left behind from drug addicts cleaned up … then I will support [a] park in the city of Toronto."
Joe Cressy, the councillor championing the park that is in his ward, did his best to justify the project, "Downtown Toronto is the most park-deficient area in the entire city. And the population is expected to double in the next 25 years," he said.
Today, on CBC radio, Mayor John Tory defended the project. "Anytime you have a chance, and I would say in this case it's the last chance, to do something really bold in terms of a big new park in the centre of the city, you should seize that opportunity especially in light of the fact that you have a deficiency of parkland in that part of the city," he said.
The city has yet to buy the air rights for the space above the tracks. It was recently revealed that a  company. named Craft Acquisitions Corporation, purchased all of the air rights in December 2013.