It's an annual movement which began in Australia..
Movember, or "moustache November", was started in 2003 to raise awareness and charitable funds for men's health issues.
The Movember Foundation has now become a world-wide movement with events in countries around the world. The theme this year is "Stop Men Dying Too Young"
Patrice Lavoie, is the volunteer ambassador and spokesman for Movember Canada in the province of Quebec
Listen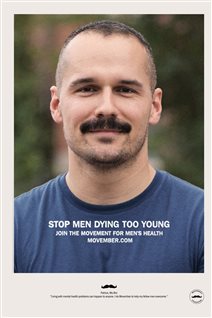 The original idea was for men to grow a moustache during the month of November and collect donations for it to be shaved off at the end of the month.
This year shaving off any existing facial hair is not a requirement, instead, people can organize or participate in a charitable event. Funds would then be donated to various men's health causes and for health research. 
It is known for example that men's average lifespan is six years less than women.
Men have high levels of mental and emotional health issues, with a higher number of men committing suicide.
They have significant problems with prostate and testicular cancers, and of course there's the issue of men's own reluctance to seek help when dealing with a physical or emotional problem.
Movember seeks to help overcome the idea that seeking help is a sign of weakness.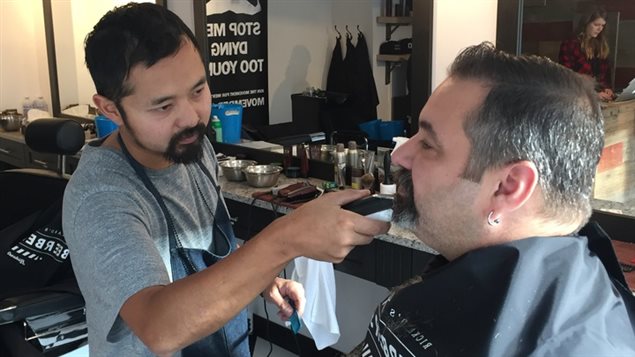 "With this year's campaign, we're putting the cause first: men are dying too young, and for no good reason," says Kevin Edwards, Country Director for Canada. "Though the tone of the campaign is a more serious one, we still stand by our values of doing good and having fun, and that's where growing a moustache, moving, and hosting events come in. Our community continues to have fun raising funds for an important and serious cause."
In a press release the Movember Foundation said, the movement is "encouraging men to become more aware of their health, to talk about the big stuff in life, and take action when health issues arise.  Our fathers, partners, brothers and friends face a health crisis that isn't being talked about. We can't afford to stay silent. We have one goal: to stop men dying too young.
To date the international Movember movement has raised $770 million to help us fund over 1,200 projects focusing on prostate cancer, testicular cancer, mental health and suicide prevention.
YouTube- Be a Mo Bro (or Mo sister)
Additional information – sources