The Canadian economy bounced back in the third quarter as it grew at an annual pace of 3.5 per cent after a rebound in energy exports as the sector recovered from the Alberta wildfires, Statistics Canada said Wednesday.
Real gross domestic product (GDP) grew by 0.9 per cent in the three months to Sept. 30, following a 0.3 per cent downturn in the second quarter of the year.
The GDP growth was largely driven by a 6.1 per cent increase in exports of energy products, following a 5.1 per cent decline in the second quarter caused by the Fort McMurray wildfires that had shut down oil production in Canada's energy heartland.
An exception was natural gas, natural gas liquids and related products, which declined 3.8 per cent.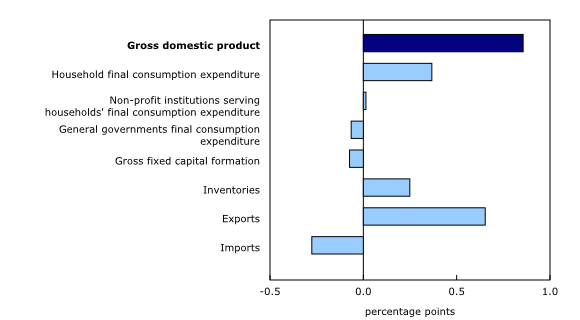 Exports of goods grew 2.3 per cent, while services advanced 1.4 per cent, with makers of consumer goods taking advantage of a low Canadian dollar to boost their overseas sales by 3.6 per cent following a 6.4 per cent decline in the second quarter.
Exports of metal ores and non-metallic minerals, industrial machinery, equipment and parts and forestry products and building and packaging materials also grew in the third quarter.
The cheap loonie also boosted Canada's tourism sector, which earned three per cent more.
The Canadian consumer remained cautiously optimistic, with household spending expanding by 0.6 per cent, after increasing 0.5 per cent in the second quarter.
With files from The Canadian Press and CBC News