U.S. Vice-President Joe Biden urged Canada's provincial and Aboriginal leaders to keep fighting climate change even as the incoming administration of President-elect Donald Trump seems almost certain to undo most of the Obama administration's climate change policies.
Biden is in Ottawa for a two-day visit, his third and last official visit to Canada. He arrived shortly before 8:00 p.m. Thursday.
Introducing Biden to provincial premiers and Aboriginal leaders who have gathered in Ottawa to discuss a national climate change strategy, Prime Minister Justin Trudeau said the two countries collaborate on numerous common issues, from trade, security to climate change.
'Great strides'
"Climate change is a reality in North America, particularly in the North where the strongest warming trends are being felt, affecting life in communities there and across the continent," Trudeau said. "No single continent, country or level of government can fix this problem alone. This is a global issue and we all need to be involved globally, continentally, nationally and subnationally to develop solutions."
Trudeau spoke about the "great strides" the two North American neighbours have made in developing a common strategy in combating climate change through the Joint Statement on Climate, Energy and Arctic Leadership.
The document signed by Trudeau and President Obama commits Ottawa and Washington to a number of coordinated actions in reducing the emissions of greenhouse gases, incorporation of indigenous science and traditional knowledge into decision making and supporting Arctic communities.
Trudeau thanked Biden for his "remarkable" leadership on the climate change file.
Complex and robust partnership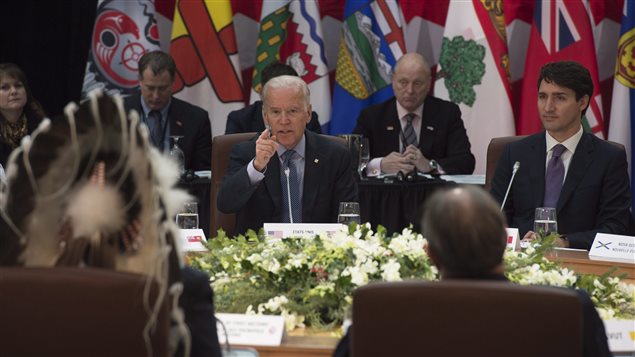 The partnership between the United States and Canada is "among the most robust, most complex, and most important in the world," Biden said.
"We are deeply interconnected in every way: our people, our economies, our environments," he said. "And whether addressing the areas of shared security or fostering environmental innovation and opportunity for our people, we're always stronger when we work together."
(click to listen to a part of Vice-President Joe Biden's address)
Listen
Climate change threat
It's important for Canada and the U.S. to continue working together on fighting climate change, Biden said.
"We know the threat is real, at least the vast majority of us know the threat is real," Biden said in a not-so-subtle reference to the incoming Trump administration.
The world has only three options when confronted with the reality of that threat, he said.
"We can mitigate, we can adapt or we can suffer," Biden said. "The good news is Canada and the United States have the resources to cauterize this wound if we have the will to do it."
Renewable energy superpowers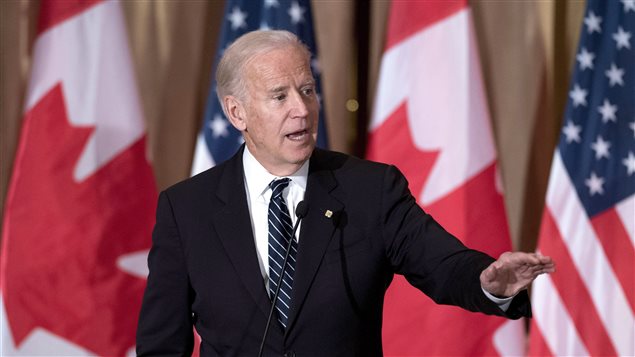 North America is positioned to be the "epicentre of energy" for the remained of the 21st century, he said. Canadians and Americans have the luxury of being able to determine their own energy future and can help shape energy trends around the world, as North American scientists are leading a global drive for "game-changing" clean energy solutions, Biden said.
Advances in solar and wind energy generations have brought down significantly the cost of these alternative energy solutions and the U.S. produces enough clean energy from these sources to supply power to 18 million homes, Biden said.
"The cost of renewable energy is now competitive with coal and natural gas because of these scientific and technological breakthroughs," he said.
Over 2.5 million Americans are now employed in the renewable energy sector, more than in all high-tech firms taken together, Biden said. These workers earn good middle-class wages, he said.
"One of the things that the president and are the proudest of having accomplished over the past eight years is debunking the myth that America can't grow our economy and bring down emissions at the same time," Biden said. "That is simply a false choice."
The growth area of the future is going to be in renewable energy technologies, Biden told the premiers and Aboriginal leaders, making Canada and the U.S. ideally positioned to become global leaders in exporting these technologies to the rest of the world.
Reassuring Canadians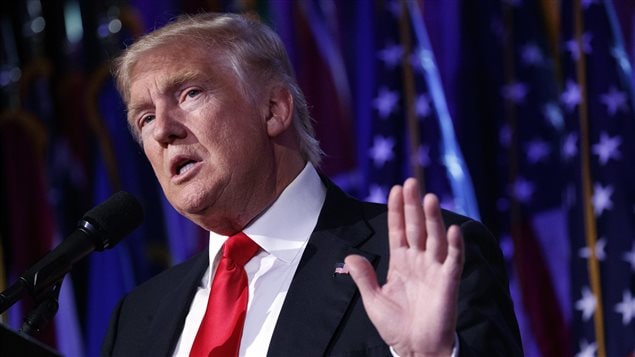 Biden tried to reassure Canadians worried about the disruptive policies advocated by Trump during his election campaign, saying "the reality has a way of intruding" on such electoral promises.
"Whatever uncertainty exists around near-term policy choices of the next president, I'm absolutely confident the United States will continue making progress in its path to a low-carbon future," Biden said. "And that's because many of the trends I have mentioned have taken hold and are no longer dependent on government initiatives: they are market-driven, they're common sense."
Companies and businesses recognize that it's in their financial interest to harness the clean energy revolution, he said.
Another reason for his optimism is that many of these renewable energy solutions are now being championed on the state and community level, Biden said.
"Let's find ways to work together to combat climate change province by province, community by community," Biden said. "When I say community by community, I literally mean it. I spend more time going to American cities, helping them change literally their street lighting, saving them millions of dollars over time."
A simple thing like changing streetlight to LED lights will save hundreds of millions of dollars, Biden said.
"It all adds up, and as I said as I look around this room I have a lot of hope because each one of you and each province and nation knows this is important," Biden said. "That's why I think this is unstoppable."
Still, there is a great urgency to start acting on climate change, he said.
"A month, six months, a year it matters a lot to our grandchildren," Biden said.