Once again this week I had the distinct pleasure of making contact with Emma Mogus.
I count myself lucky.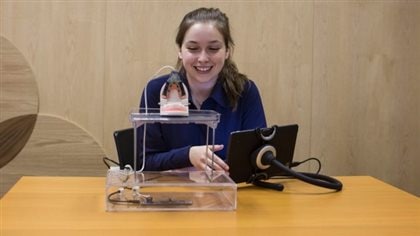 Mogus, who has just completed her first semester at Hamilton's McMaster University, once again reminded me about the great things we human beings are capable of.
You may remember two stories I did about her last summer after she drew attention for a device she invented that would provide people suffering from physical disabilities to make better contact with their computers.
Moved by the plight of a friend suffering from ALS, Mogus spent much of her final two years at White Oaks Secondary High School in Oakville, ON., creating a device called TiC, or Tongue-Interface-Communication.
The TiC has five buttons inside a mouthguard-type device that is connected to a computer. Each button controls a difference mouse direction.
The result: people suffering from ALS, multiple sclerosis, spinal cord injuries and other disabilities may soon have a real shot at joining the rest of us navigating the Internet or sending emails with a minimum of difficulty.
For her work, she was awarded the 2016 Weston Youth Innovation Award from the Ontario Science Centre. The award carried a $2,000 stipend which is using to keep developing her invention.
Turns out, that's just a start.
No, make that a continuation.
Earlier this month, she was runner-up for the Everyday Political Citizen Award sponsored by Samara Canada for a project she and her sister, Julia, created in 2011
The pair founded "Books With No Bounds," a non-profit that sends books and school supplies to indigenous children around the world.
Since its creation, "Books With No Bounds" has now shipped over 203,000 books and 75,000 packages of school supplies to indigenous children around the world, including First Nations communities in Canada.
This is a time of year when the media names and nominates people for end-of-year awards. Usually, it's someone famous–a politician, a writer, an athlete.
Mogus is none of those things, though once upon a time she was a top-of-the-line figure skater.
No, Mogus is first-year university student.
Ah, but she is so much more: a beacon of hope for all who might despair about the direction the world seems to be heading.
I have no vote in any organization that is naming a person of the year and I represent no one other than myself. But I know who my vote goes to.
Emma Mogus,
Her generosity of spirit, her determination to make the the world a better place, restored my hope about the future. For that I am truly grateful and I thank her.
May her spirit go forth and multiply.
I spoke by phone with her on Wednesday at her home in Oakville.
Listen
Youth is happy because it has the ability to see beauty. Anyone who keeps the ability to see beauty never grows old.Franz Kafka