(comments to all RCI stories may be added by scrolling to the very bottom of any story page)
US President Trump has been railing against the North American Free Trade Agreement, NAFTA, as he says it's been allowing American companies to move production and jobs to Mexico where costs are lower.
NAFTA allows for freer movement of good produced in one country to be sold into the other two. President Trump has been saying that if those companies want to sell to the America market, they should be producing there.
In light of such recent statements, General Motors made a surprise announcement today, and not to Canada's benefit nor apparently it would seem, America's.
GM said will cut 625 jobs in Ontario and move the production to Mexico. The job losses will be at the CAMI plant in Ingersoll Ontario, near the larger centre of London. The cuts will begin in July which currently employs about 3,000..
This plant was not part of major negotiations between GM and the workers union late last year.
The union was told earlier this year that one model would be shifted to Mexico, but that another model would take its place at the plant.
On hearing of the surprising announcement today, the Unifor leader was angry.
"Shining example of everything wrong with NAFTA", Unifor
Unifor's national president Jerry Dias  sent out tweets sayin this was corporate greed and example of why NAFTA is a terrible deal, adding it should be renegotiated, adding this announcement is a "shining example of everything wrong with NAFTA".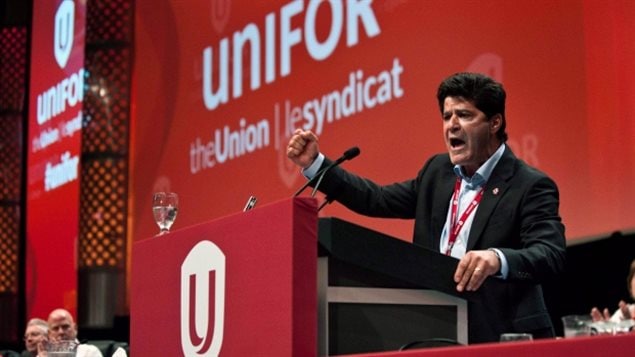 A statement on the Unifor website read in part,"This decision reeks of corporate greed. It is not based on sales, it is an another example of how good jobs are being shifted out of Canada for cheaper labour in Mexico and Unifor will not let it happen without a fight," said Unifor National President Jerry Dias. "The Equinox and Terrain are incredibly successful vehicles and given current market demand, there is no justification for lay-offs at the CAMI facility."
In response to the move by GM,  Navdeep Bains, Canada's minister of innovation, science and economic development, said the government is "concerned about the impact of job losses on workers and their families and our thoughts go out to those affected.
Analysts suggest that with the atmosphere in the US now, more Canadian auto sector jobs could be lost to the US.
additional information – sources