The premier of the province of Quebec said "it was totally impossible to understand" the attack on a Quebec city mosque which has taken the lives of six people so far and injured 19 others.
Speaking at a news conference hastily called shortly after the attack at 7:50pm last night, a tousled Premier Philippe Couillard expressed his shock that such an attack could happen in an open and peaceful society.
Premier asks Quebecers greet Muslims,express their sympathies
He said that "words matter" and "gestures matter," a reference to hot discussions that have been held on radio and in other media criticizing the wearing of burkas and niquabs. During the last provincial election the incumbent party talked of a "charter of values" that proposed prohibiting public sector employees from wearing or displaying religious symbols.  The party that proposed it was booted out of office. There have also been scattered incidents of vandalism at mosques in Quebec and elsewhere in the country. They have sometimes been followed by Muslim and non-muslim citizens helping to set things right.
Couillard called for more unity and more respect and invited Quebecer who meet Muslims on the street to greet them and express their sympathies. And to he said "to our Québécois compatriots of the Muslim confession…We're with you. You are home, you are welcome in your home."
'Horror exists,' we are not immune
When asked to account for how this attack could occur if Quebec is indeed an open society, Couillard said, "Horror exists" and that while we may have thought we were immune to horrors going on in the rest of the world, clearly that is not the case.
Listen to a brief word from an emotional Quebec City Mayor Régis Labeaume followed by Premier Couillard's comments.
Prime Minister says 'Canadians grieve'
Canadian Prime Minister Justin Trudeau tweeted his shock shortly after the attack: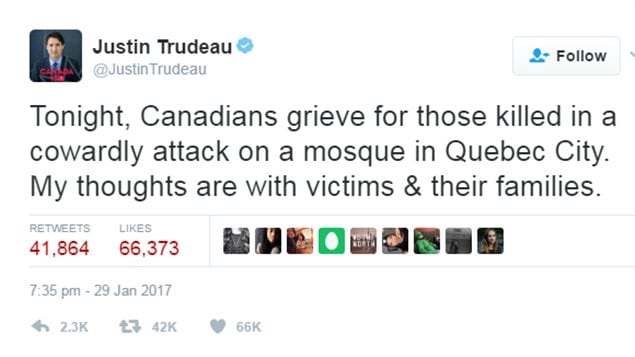 The prime minister is expected to speak to the issue later today.