Funny that hold Jackie Robinson can have on people.
Take Annakin Slayd, born 23 years after Robinson retired from baseball, six years after Robinson died.
And yet, here is Slayd, a kind and gentle hip-hop artist, touring Montreal schools to talk, to sing, to show slides to kids about Robinson, a man of fearless principle and fierce intelligence.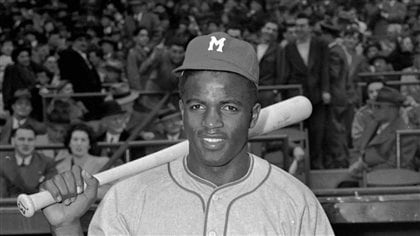 It was 70 years ago this April that Robinson, after a year playing in Montreal, broke Major League Baseball's long-standing "colour barrier."
Like Slayd, baseball, will celebrate Robinson's achievements.
Nothing new about that. MLB retired Robinson's number years ago.
Nobody–on any team–will ever wear number 42 again, excepting the one day in the season when EVERYONE does.
And Annakin Slayd will carry on with his school tour, honouring a man he fell in love with as a kid.
In another 30 years, chances are there will be a whole new bunch of once-little kids celebrating Robinson, in part because Annakin Slayd took the time to share his love.
I spoke to Slayd by phone on Thursday.
Listen