A coalition of child advocacy groups is praising Canada's decision to join the list of 59 countries that endorse the Safe Schools Declaration aimed at protecting students, teachers and schools during armed conflict.
Canada's commitment to the Declaration was announced in Paris earlier today by Minister of International Development and La Francophonie Marie-Claude Bibeau.
She made the announcement at the Paris Ministerial International Conference on the 10th Anniversary of the Paris Commitments and the Paris Principles on Children Associated with Armed Forces or Armed Groups, hosted by the French government.
In a joint statement signed by Foreign Affairs Minister Chrystia Freeland and Defence Minister Harjit Sajjan Bibeau said education is a fundamental right that Canada is proud to defend, at home and abroad.
Children belong in school and we need to protect them. Today, Canada joins #SafeSchoolsDeclaration. #ChildrenInWar https://t.co/n05G4Xd5ud pic.twitter.com/GHE99FnLsC

— Marie-Claude Bibeau (@mclaudebibeau) February 21, 2017
"Education shouldn't be seen as a privilege, but as a basic right," Bibeau said in a statement. "By endorsing the Safe Schools Declaration, Canada is reaffirming its commitment to defend and protect the rights of children in conflict zones."
It is estimated that 250 million children currently live in countries and areas affected by armed conflict.
Global partnership
Speaking to RCI from Paris where he witnessed Bibeau's declaration, former Senator and retired Canadian general Roméo Dallaire said he was "absolutely overjoyed" by Canada's decision.
(click to listen to the full interview with Roméo Dallaire)
Listen
"This has been in the works for a couple of years and so we finally got traction with the new government," said Dallaire, who founded the Roméo Dallaire Child Soldiers Initiative, a global partnership aimed at eradicating the use and recruitment of child soldiers.
"And through discussions with senior officials, including the CDS (Chief of Defence Staff), the ministers and it was a very interesting grouping of the three Ds, what we used to call – defence, diplomacy and development – those three ministers pulled it together and we got it signed, and I'm very happy."
'Normalizing environment'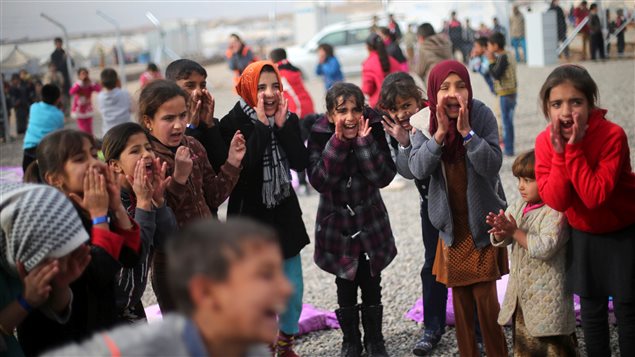 Cicely McWilliam, director of policy and government relations, said Canada's joining the declaration was "very significant."
"For children who are leaving through conflict school is a normalizing and safe environment," said McWilliam whose organization is one of the United Nation's primary partners in providing educational opportunities for children in conflict zones. "It gives them an opportunity, if indeed it is a safe place, to get support they need for psychosocial support, it gives them an opportunity to continue with normal everyday things that any child would, and so it helps ground them psychologically."
Depriving children of the opportunity to go to school in times of conflict also has long-term consequences, McWilliam said.
"How are they going to support themselves, how are they going to escape poverty if they don't have those basic building blocks of education?" McWilliam said.
'It's about mobilizing political will'
Even though the declaration does not have the power of international law, the NGO community hopes it will become a convention by which signatories pledge not to use, destroy or put in jeopardy schools and universities in countries that are in conflict, Dallaire said.
"Because in the first place it puts at risk the children, secondly by making it a safe place it reduces the possibility of easy recruitment of child soldiers, and third, what it does it sustains infrastructure and rebuilding," Dallaire said. "And so we make it clear that we don't touch the places, we don't go near them and we even provide certain protection to people trying to go to them, like kids going to school or teachers and coming back from school."
The declaration encourages states to implement plans that adhere to international law, McWilliam said.
"It's about mobilizing the political will to recommit to international law,"McWilliam said. "Civilian space should be protected and should not be at risk of military impact, but schools and hospitals in particular, because they are a necessity of life."
'Keeping war out of schools'
School buildings are often used by combatants to house headquarters, training facilities, makeshift hospitals and even arms depots.
"What we're trying to do is to keep war out of schools," Dallaire said.
The coalition of NGOs that is supporting the Safe Schools Declaration would like to see schools given the same level of protection in international law as hospitals, religious buildings and historical monuments, Dallaire said.
"In a country that is in conflict, we essentially by doing this give them a sense that they're self-destructing themselves if they destroy such a fundamental piece of infrastructure like a school," Dallaire said. "Because we want to keep the kids in school, we want to keep them safe, but we also want to have that infrastructure there for reconciliation and rebuilding."
Dallaire also said the child advocacy coalition has also been to convince the Canadian military to sign a new doctrine to deal with child soldiers.
"And today we were able to present the case of how to practically reduce the use of child soldiers," Dallaire said. "It's been a very effective day."