There are few Canadian journalists who would have been more qualified to write a book about Canadian foreign policy than Mike Blanchfield.
To say that for the last two decades Blanchfield has had a front seat in observing and reporting on Canadian foreign policy would be an understatement.
Having a front seat implies privilege but Blanchfield, who has been a reporter for The Canadian Press and the Ottawa Citizen before that, won his unique vantage point and insight into Canadian foreign policy through hard work – filing and pouring over countless access to information requests, carefully cultivating sources, and risking his life on dangerous assignments from the Balkans, to Afghanistan, Pakistan and Iraq.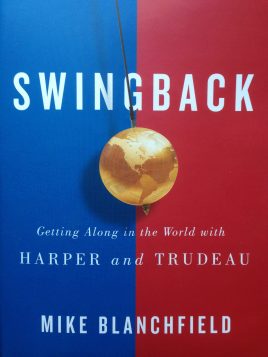 We met on one such assignment in Tashkent, Uzbekistan, in October 2001 on our way to Afghanistan to cover the impending U.S. invasion following the 9/11 attacks and I have witnessed firsthand Blanchfield's dedication to his craft.
And it is that combination of craft, insight, critical thinking and objectivity that makes Blanchfield's first book Swingback: Getting Along in the World with Harper and Trudeau (published by McGill-Queen's University Press) such a compelling read for anyone who's interested in Canadian and international politics.
In Swingback Blanchfield not only chronicles Canada's foreign policy under Conservative Prime Minister Stephen Harper and the first 100 days of his Liberal successor Justin Trudeau but also traces Canada's coming of age on the international scene and its first steps as a global actor after the Second World War.
The book examines how Harper challenged decades of bipartisan foreign policy consensus to chart his own foreign policy by redefining Canada's relations with the United Nations, by his unabashed support for Israel, and taking a hard line on relations with Russia and Iran. Swingback also examines how Trudeau attempted to redefine Canada's international image after nearly a decade of Harper's policies.
I reached Mike Blanchfield by phone in Ottawa.
(click to listen to the full interview with Mike Blanchfield)
Listen