There are 19 subpopulations of polar bears in the Arctic circumpolar region, with 13 of them in Canada
A recent survey was taken of two of these subpopulations as previous number estimates were old, dating back to the 1990's and deemed to be woefully out of date.
The new results, taken from 2011 to 2013 indicate that the subpopulations in the Baffin Bay and Kane Basin areas are stable and may even show a slight increase.  In Baffin Bay there are now an estimated 2,826 animals, while in the Kane Basin some 357 bears.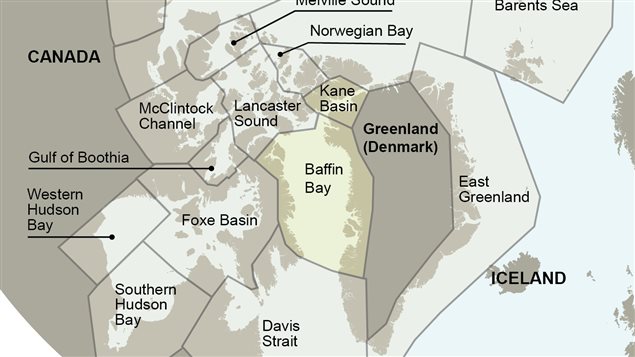 Melanie Lancaster, senior specialist, Arctic species, WWF Arctic Programme  says, "It's definitely a positive sign to see population numbers looking good, but it's also worrying to see that climate change is beginning to have a noticeable effect, even on northerly populations. This reiterates the importance of monitoring to understand how polar bears are coping with the effects of climate change, while at the same time focusing our efforts on maintaining polar bear habitat within the Last Ice Area."
However, while that seems to be good news, the report also indicates that in Baffin Bay there has been a dramatic loss of sea ice, with  ice melt occurring 3-4 weeks earlier now than it did in the 1990's, and with 12 more days being ice-free than in the past.
The report notes that because of this , the bears range is moving northward.
Although the numbers appear to be stable, the report notes a decline in the bear's overall body condition, and a decline in cub production.
It has also meant bears are being forced to swim longer distances which puts hardship on weakened bears, and on fragile cubs.
The bears are also spending about a month longer on land, where it's known that food sources are inadequate.
Brandon Laforest, senior specialist, Arctic species and ecosystems for WWF-Canada, says of the new population survey: "This work has helped to establish a reliable estimate for these polar bear subpopulations, a key component for the creation of a comprehensive conservation plan and a baseline from which to measure their health in the future. The decreases in reproduction and body condition of polar bears in Baffin Bay are very concerning. As sea ice continues to decline, frequent and timely monitoring of polar bear subpopulations across Canada will be necessary to ensure co-management boards can make informed decisions."
Additional information-sources