St Patrick's Day is almost upon us, and in Montreal this weekend. one of the oldest, if not the oldest continuously held St Patrick's parades will occur with lots of Irish sounding music. And that's not unusual in this mostly French-speaking province.
When one hears "traditional French-Quebecois music", there will be a variety of instruments but usually violins and accordions and the playing of jigs and reels and waltzes.
When one thinks of traditional Irish music, there will be a variety of instruments but usually violins and accordions and the playing of jigs and reels and waltzes.
Jérémy Tétrault-Farber is a musician, a teacher in Quebec's pre-university college system, and a third year PhD student in the Humanities programme at Concordia University in Montreal. His thesis is on the influence of Irish music in Montreal and Quebec.
Listen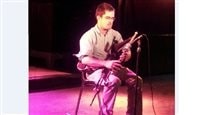 Although a Francophone  Tétrault-Farber fell in love with Celtic music at an early age.
In later life he learned to play the Great Highland bagpipes, the Irish Uilleann pipes, and the tin whistle (penny whistle). He even joined a Scottish highland pipe band, the Montreal Pipes and Drums, in 2013 as the Pipe Major. The band surprisingly perhaps, consists of a majority of Francophones.
The major urban area of the mostly Francophone province of Quebec has always had a vibrant music scene where jazz, rock, pop, etc has flourished in both English and French.  It's also where "traditional" music flourishes and has inspired several evolutionary "trad-based" offshoots.
In their history Montreal and Quebec as a whole have experienced large migrations from Ireland. This was especially so during the Irish famine of the mid-1800s.
The Irish brought their music with them, and that seems to have had a strong influence on the existing "Canadien" (French-Canadian) music of the time.
The rythmic stamping of feet often present in traditional Quebec folk music may resemble the beating rhythms of the Irish bohran drum, and Quebec step dancing seems heavily influenced by Irish styles, while lyrically, the folk songs are distinctly "Canadien".
YOUTUBE- Popular Quebec group " La Volee de Castors"

Tetrault-Farber is now exploring this Irish influence and cross-pollination of French-Irish styles as part of his PhD thesis and how non-Irish, such as himself, have contributed in this back and forth integration of a musical and cultural style.
"I have no idea what I'll find. I'm curious to see how surprised I'll be by certain things: how deeply Montrealers feel connected to Irish music, even without Irish roots. All music expresses an identity; it's the impact that identity has on people that interests me", he says.
Although an accomplished player, and even Celtic music teacher, his work will deal only with the voices of musicians.
As he continues his research he says, "The Irish have left an indelible mark on the culture and history of Montreal. I can't wait to uncover more of that legacy."
YOUTUBE Traditional Quebec jig (gigue) and stepdancing (Irish influence?)
YOUTUBE- IRISH JIG