A new documentary features beautiful shots of red foxes and rare footage of newborn pups in their dens. The film called Fox Tales aired on the public broadcaster, CBC, last week and it shows red foxes spreading around the globe. But they are discreet.
Listen
Director mesmerized by pups
"I have long had a fascination with foxes but I rarely have a chance to see them even though I live in the countryside," says Susan Fleming, the film's producer and co-director. "But I was on vacation hiking in Newfoundland a couple of years ago and I ran across a wild fox den that was active.
"The pups were outside playing and I ended up spending the whole afternoon watching them, and going back the next day with my binoculars and laying on my belly watching them again, and the next day again, and for every day of my vacation. I was completely mesmerized."
Fleming realized she did not know much about the foxes and began to do research. It was not long before she became hooked, as she put it, and decided to make a film.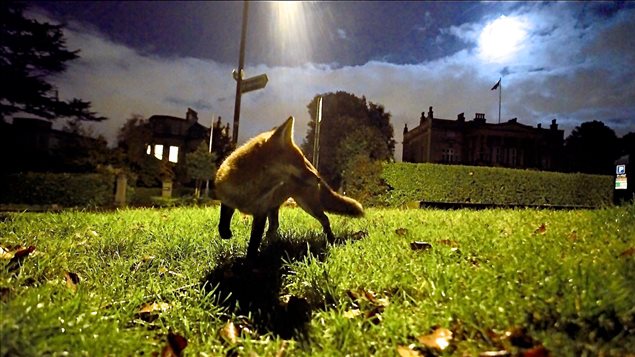 Smart omnivores make a home almost anywhere
"You know red foxes can make a home almost anywhere from Australia to the Arctic tundra to Russia. These are really ubiquitous pups. They're everywhere. And one of the reasons they are is because they're so smart they take advantage of every opportunity. They're omnivores so they can survive on a wide diet—everything from berries to grasshoppers to meat to fish in Newfoundland. So they can live anywhere and make a good home for themselves anywhere."
The film shows red foxes on the coast of Newfoundland, in the Arctic, and in the British city of Bristol.  In cities, they have adapted to less welcoming humans by only coming out at night. They have the same diet as they do in the countryside often eating mice, voles, squirrels or berries and anything else they can find. And typically, they are not a nuisance.
Early fights for dominance
The film's producers came to know scientist Sandra Alvarez-Betancourt who had been studying red foxes for years. She had placed special cameras to capture images of newborn foxes in their dens more than one metre underground and made those images available for use in the film. They show that red foxes begin to fight for dominance as soon as their eyes open which is earlier than was thought.
The images are captivating. The documentary is available online and can be viewed within Canada.