Canadians spend more time watching cooking shows than they do cooking, and they spend less time eating than almost anyone else in the world, according to recent research. Canadians are losing the art of cooking says, Sylvain Charlebois, a professor of food distribution and policy at Dalhousie University in the eastern city of Halifax.  He says part of the problem is Canadians' lifestyle.
Listen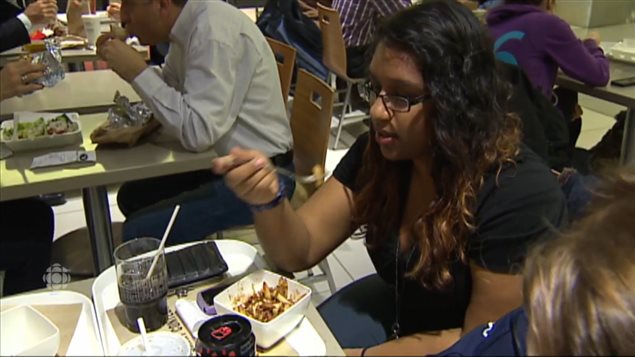 Food industry 'capitalizing on our need for convenience'
"It is a fast-paced society. We are pressed for time and cooking takes time," he says. "And if you don't spend time thinking about food, generally speaking, you will eventually seek convenience. And that's what the food industry is doing. It's capitalizing on our need to look for convenience."
Charlebois notes there are now companies in Canada that will deliver food that only needs to be reheated and some that will deliver a week's worth. Eating this way is more expensive than cooking meals at home and processed foods often contain more salt, sugar, fat and preservatives. He says people are losing their food culture, that is, the ability to make the foods they grew up with.
People intimidated by cooking shows, says professor
It's curious that people watch cooking shows but don't seem to derive from them the inspiration to cook. Charlebois thinks that is because they feature celebrity chefs in fancy kitchens, using exotic tools and ingredients that viewers may not have seen before.
Too many eat alone
"When people see these shows, they don't see themselves in it…These shows are really making cooking inaccessible for most Canadians. And that's why I think a lot of Canadians just feel intimidated by what's going on on television."
Canadians spend only 74 minutes a day eating breakfast, lunch, dinner and snacks. Charlebois thinks too many Canadians eat alone and eat fast and, that if they spent more time eating with friends and family members, they would get around to doing more cooking. This, he says, would lead to better health and a more satisfying social life.