The U.S., Canada and other western countries are now saying the war in Syria cannot be resolved with Syrian President Bashar al-Assad as leader. Canadian Prime Minister Justin Trudeau said al-Assad cannot remain and that he must be held to account for war crimes he characterized as "bloody actions."
Outrage mounted after last week's chemical attack in northern Syria took over 80 lives. Foreign ministers from the G-7 countries meeting in Italy today are expected to put pressure on Russia to stop its support for al-Assad.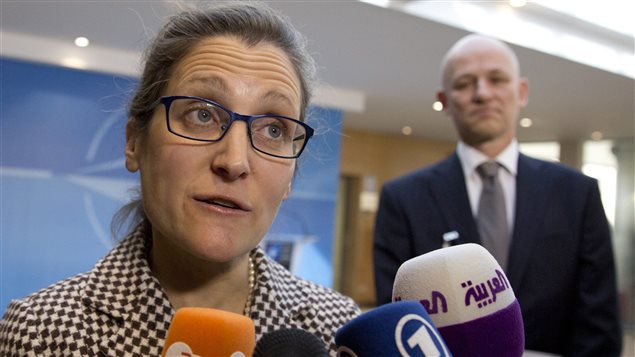 Canadian minister has expertise
Canadian Foreign Minister Chrystia Freeland has special expertise on Russia and is expected to play a strong part in the discussions. She has been banned from travel to Russia because of her stand against Russian action in Crimea.
No-fly zones, safe areas suggested.
Former Canadian ambassador to the United Nations Paul Heinbecker says possible action on Syria could include setting up no-fly zones to stop persistent bombing and chemical attacks inside Syria and the creation of safe areas for civilians. That might stop them from fleeing the country risking their lives to cross the Mediterranean to seek safety.
Heinbecker also says a plan could be devised whereby the U.S.-led coalition could protect Sunnis from Shias and the Syrian government, Russia and Iran protect Shias from Sunnis. He suggests that could freeze the fighting until other solutions are found.
Listen