*audio of Malala address to Parliament at bottom
Malala Yousafzai  is now only the sixth person to become an honorary Canadian citizen.
She was only 15 in her native Pakistan when she was shot by Taliban terrorists for having spoken out for several years about the right of girls to get an education and attend schools.
Amazingly, she survived the brutal attack. That attack only strengthened her resolve and as media coverage spread of the cowardly attack, her recovery and her ongoing campaign she soon became an international symbol and champion for girls' education.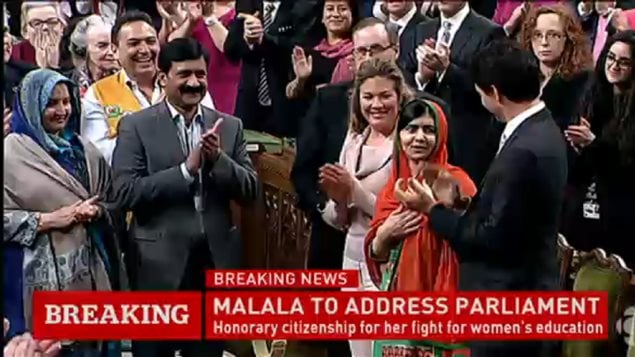 Her family moved to England for her further treatment and recovery and for safety. There she created the non-profit Malala Fund which promotes safe, quality education for girls around the world and also co-wrote a best-seller "I am Malala".
As a co-recipient of a Nobel Peace Prize in 2014, she was the youngest ever to get that distinction.  Now age 19, she was just also named the youngest U.N ambassador of peace this week .
Today, her courage and initiative is being rewarded with the honourary Canadian citizenship where she was the youngest person to address a joint session of Senators and Members of Parliament in the House of Commons in Ottawa.  Her mother and father are also in attendance for the speech.
She will also meet privately with Prime Minister Justin Trudeau and other top politicians.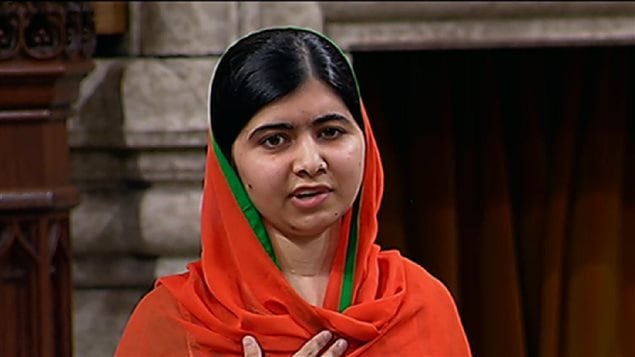 Earlier today she was a surprise guest at an Ottawa area high-school In response to a question about some cultural attitudes that value boys over girls she told students that barriers to girls education is not limited to extremism or poverty, and people need to step up and challenge such beliefs. To another question she answered that when talking about women's rights and equality, we are talking to the men  especially at the key levels and that they have a major role in creating change in attitudes and actions.
The honourary citizenship ceremony was to have taken place in 2014, but was postponed due to tragic crisis of a radicalized man shooting and killing a soldier on honourary guard duty at the National War Memorial, and moments later entering Parliament where he was killed in a shootout with police and guards inside the building.
While honorary citizenship gives the recipient no rights or legal status in Canada, it is seen as an extraordinary recognition of human rights activities.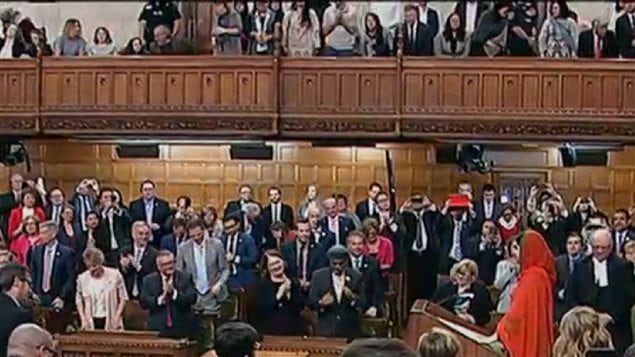 The five others who have received the honourary citizenship are:
Karim Aga Khan, imam of the world's 15 million Shia Ismali Muslims and advocate for development, pluralism and tolerance around the world in 2010.
Aung San Suu Kyi, Burmese democracy advocate and Nobel laureate in 2007.
Tenzin Gyatso, the current and 14th Dalai Lama in 2006.
Nelson Mandela, anti-apartheid activist and former President of South Africa in 2001.
Raoul Wallenberg, Swedish diplomat noted for his actions during the Holocaust, granted posthumously in 1985.
Malala Yousafzai's full speech to Parliament
Listen
Additional information-Sources