A new law aimed at cracking down on drunk driving has been introduced in Parliament.
If it passes, Justice Minister Jody Wilson-Raybould says it "will be one of the strongest impaired-driving pieces of legislation in the world."
The law would drop the requirement that police need a reasonable suspicion that a driver is drunk before demanding a breath sample.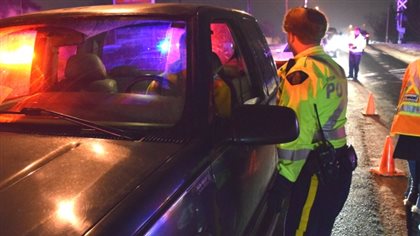 However, legal experts say the proposed law is almost certain to face a court challenge because, they say, it would be a violation of the right of Canadians to not face unreasonable speeches.
The announcement comes as the federal government prepares for the legalization of marijuana.
In dealing with drivers' marijuana use, police will be allowed to take "oral fluid samples" from drivers but–unlike possible drunk driving cases–officers will need cause to suspect the driver is impaired.
Failing the test would not be be proof of drug use, but police would be allowed to carry out further testing because failing the test would create reasonable grounds that a crime has been committed.
Crashes involving alcohol and/or drugs are the leading criminal cause of death in Canada.
According to Statistics Canada, police reported 72,039 impaired driving incidents in 2015, a rate of 201 incidents per 100,000 population.
Of the total number of incidents, 122 were cases of impaired driving causing death and 596 were cases of impaired driving causing bodily harm.
Stats Can figures show the impaired driving rate steadily decreased from 1986—when comparable data were first collected—until the early 2000s.
It then remained relatively stable until 2011, and has since declined.
With files from CBC News and the Globe and Mail.