Canada's Foreign Affairs Minister Chrystia Freeland participated in a panel discussion featuring some of the most powerful women on the planet on Tuesday.
Freeland took part in a keynote panel discussion on scaling up women's entrepreneurship, at the Women20 Summit in Berlin, sharing the stage with Ivanka Trump, the daughter and advisor to U.S. President Donald Trump, Christine Lagarde, head of the International Monetary Fund, Queen Máxima of the Netherlands and German Chancellor Angela Merkel.
The W20 Summit brings together more than 100 delegates from all G20 member states. The key themes of this year's three-day summit are access to the labour market and financial resources, female entrepreneurship, and digitalisation.
"Women and girls are powerful agents of change, and Canada supports efforts to abolish laws and standards that inhibit women from realizing their full potential," Freeland said in a statement released prior to her departure to Berlin. "Gender equality is a necessary foundation for a peaceful, prosperous and sustainable world."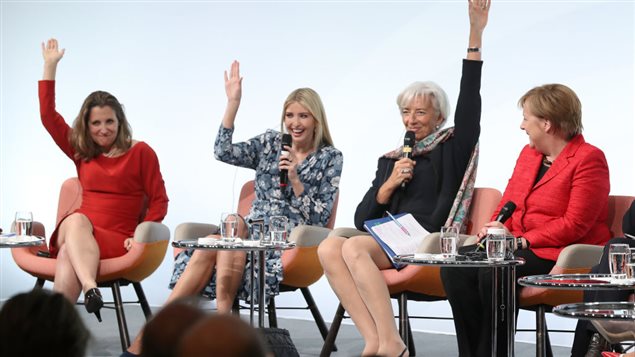 Speaking at the panel discussion entitled "Inspiring women: Scaling up Women's Entrepreneurship," Queen Máxima said that there is no "silver bullet" or "size fits all" for the economic empowerment of women.
Merkel said it was important to empower women to tap into their entrepreneurial spirit.
"Everywhere in development policy, we are asking how do we move from state development to economic development," Merkel said.
Ahead of her visit, Ivanka Trump called for initiatives for women's empowerment in a Financial Times editorial she co-authored with Jim Yong Kim, the president of the World Bank.
"We need to increase access to finance, redistribute care work, accelerate progress to financial inclusion, and offer programmes that train female entrepreneurs and help them access higher value markets," Trump and Kim wrote in Monday's editorial.
But when she was handed the microphone, Trump had to defend her father's approach to women.
The crowd booed and hissed after Trump called her father a "tremendous champion" of women.
"I've heard the criticism from the media," she said. "As a daughter, I can speak knowing that he encouraged me and enabled me to thrive. Beyond my own perseverance and tenacity."
With files from The Associated Press