Concerned by the escalating political and economic crisis in Venezuela, Ottawa is urging the Venezuelan government and the opposition to settle their difference peacefully, taking into account "the legitimate concerns of the Venezuelan people."
At least 36 people have been killed in the unrest that began in late March, fuelled by accusations that President Nicolás Maduro is building a dictatorship and anger over chronic product shortages that have left many struggling to eat.
"Canada is very troubled by the announcement by Venezuela's President Nicolás Maduro that he will establish a constituent assembly to change the Venezuelan constitution, which will further escalate tensions in the country," Foreign Affairs Minister Chrystia Freeland said in a statement.
Maduro's move to tear up the "anti-capitalist" constitution written by his political godfather, the late President Hugo Chavez, could allow him to postpone elections that most Western observers believed he was sure to lose.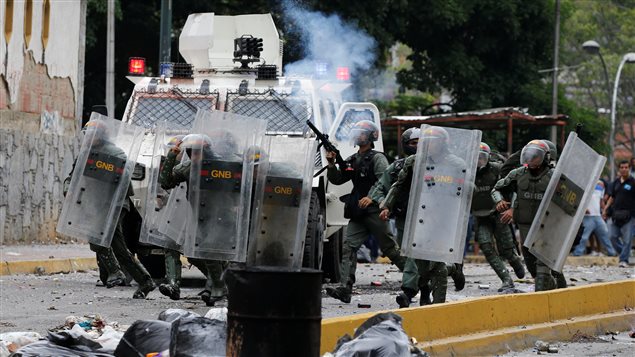 The news that Maduro plans to introduce instead a new constitution, the 27th such document in the country's history, came after the Venezuelan government announced its decision to withdraw from the Organization of American States (OAS).
On April 3, 2017, Canada co-sponsored an OAS resolution reiterating the call on Venezuela to restore constitutional order and respect for democratic rights, Freeland said.
"We call on the Government of Venezuela to release all political prisoners and set an electoral calendar without delay. Free and fair elections including all of Venezuela's eligible voters are required to solve the country's crisis," she said.
Freeland's statement came after Prime Minister Justin Trudeau discussed the situation in Venezuela with Peruvian President Pedro Pablo Kuczynski on Monday.
"The leaders discussed the rapidly deteriorating situation in Venezuela and reiterated their call on the Venezuelan Government to restore the constitutional order," said a read-out of the call published by the Prime Minister's Office.