A Canadian NGO is calling on the federal government to take steps to reduce "collateral damage" in Canada's commercial fisheries and protect vulnerable marine species from being harvested unintentionally and wastefully.
A report by Oceana Canada says the unintentional harvesting of marine species is one of the "biggest threats to our oceans," resulting in unnecessary waste and harm to sea life, and calls on the Department of Fisheries and Oceans (DFO) to improve its management of the so-called bycatch.
Up to 10.3 million tonnes of sea life is unintentionally caught each year around the world, captured in nets, lines and other gear, says the report titled Collateral damage: How to reduce bycatch in Canada's commercial fisheries.
While fishermen are able to keep some of that bycatch and sell it, or release it safely back in the ocean, a great deal of it thrown back in the water either dead or dying, said Josh Laughren, executive director of Oceana Canada.
"It does include everything from juvenile fish that ought not be caught because they haven't reproduced yet to sea turtles, sharks, dolphins, whales, sea birds, anything," Laughren said.
(click to listen to the interview with Josh Laughren)
Listen
For example, the north Atlantic swordfish fishery discards approximately 44.8 per cent of its catch, according to Oceana Canada.  The Eastern offshore lobster fishery discards approximately 22 per cent, including endangered species like Atlantic cod and northern wolffish. While the Pacific halibut fishery discards approximately 45 per cent, including endangered basking sharks.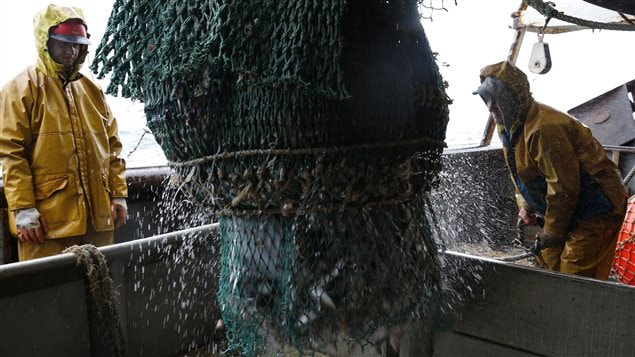 Some fisheries throw back into the sea more than they keep because of the nature of the gear they use, he said.
"In some cases it's extremely wasteful and is often a threat to some of our most endangered species like sea turtles," Laughren said.
One of the report's first findings is that Canada does not track, measure and report bycatch in its fisheries in a consistent way, Laughren said.
"It's very piecemeal, it's different depending on what coast you are, depending on what fishery you're in," he said. "So we found it extremely difficult, really impossible to quantify what bycatch was in Canada except for some case by case fisheries where we can get numbers."
The report recommends that the DFO release a national plan to improve its monitoring of everything that is caught in a fishery, including bycatch species; cap the amount of wasted catch in each fishery; and prevent bycatch by making improvements to fishing gear.
Jeff MacDonald, director general of Fisheries Policy at the DFO, said he welcomed the Oceana report and would look "very seriously" at its recommendations.
(click to listen to the interview with Jeff MacDonald)
Listen
"We are working to ensure that fish stocks and other species are maintained, protected and recovered," MacDonald said. "We do have a reputation internationally as being very responsible managers of our fisheries but we also recognize that there is room to improve what we do, including especially on the subject of bycatch."
Currently, there is a variety of measures to manage bycatch depending on the particular fishery and the type of equipment that is being used, he said.
"We work with the fishing industry in those particular fisheries to modify the gear such that it doesn't just reduce bycatch, but where there is bycatch, it can increase the survivability of the species that's being caught," MacDonald said. "So for example in swordfish we do use a type of hook called a 'circle hook,' which allows for fewer turtles to be caught and those that are, we can ensure that they can be returned into the sea."
The DFO is also working on a national policy on catch reporting and on fishery monitoring to improve the quality of the data collected from the fisheries, he said.
"We do also believe that it's necessary to have better catch reporting because it gives us that much better idea what is coming out of the ocean and as a result allows us to manage fisheries on an ecosystem basis," MacDonald said.