With more than 20 million people in northeast Nigeria, Somalia, South Sudan and Yemen at risk of starvation, the federal government has set up an emergency relief fund to encourage Canadians to donate to charities working on the ground to avert a humanitarian catastrophe.
Through the newly created Famine Relief Fund, Ottawa will match every dollar donated by individual Canadians to registered charities between March 17 and June 30, 2017, Minister of International Development and La Francophonie Marie-Claude Bibeau announced Monday.
"Canadians have always demonstrated great compassion when it comes to humanitarian crises," Bibeau said in a statement. "I encourage all Canadians to donate to the registered Canadian charities of their choice."
'An important step'
Meg French, UNICEF Canada Chief Program Officer, welcomed the announcement.
(click to listen to the full interview with Meg French)
Listen
"It's really an important step that they've taken," French said in a phone interview from Toronto. "There are about 1.4 million children who are currently at risk of severe malnutrition in the region, so funds like these, which will help double the impact of Canadians' donations, will make a real difference in their lives. It's really a life-saving announcement."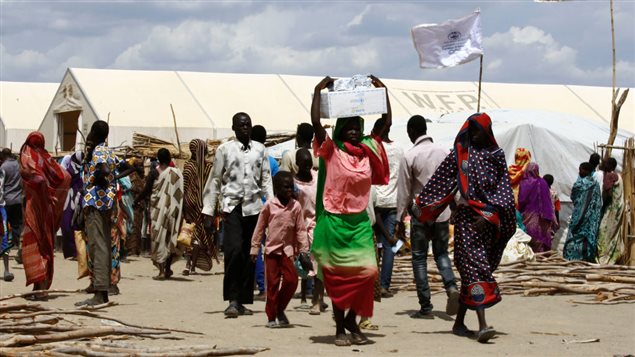 A combination of drought and conflict have all but completely exhausted people's survival strategies, said CARE Canada's Pierre Kadet, senior manager of Food Security and Resilience to Climate Change.
"People are foraging for water lilies and roots to fend off starvation. Women and girls are walking longer distances to find water, and falling victim to increasing rates of sexual violence," Kadet said. "Children are suffering the consequences of malnutrition on their physical and mental health."
Sounding the alarm
Despite the scope of the crisis, the international community hasn't been reacting to it quickly enough, French said.
"We really need the international community and individual Canadians as well to help us reach these kids, because we can treat malnourishment," French said. "It's not a death sentence, there are treatments that can be provided but we need access to those kids, we need to have the supplies to reach them as well."
Richard Morgan, executive director of the Humanitarian Coalition, an umbrella group of seven Canadian aid groups, said he was "greatly relieved and appreciative" of the government for launching the matching fund.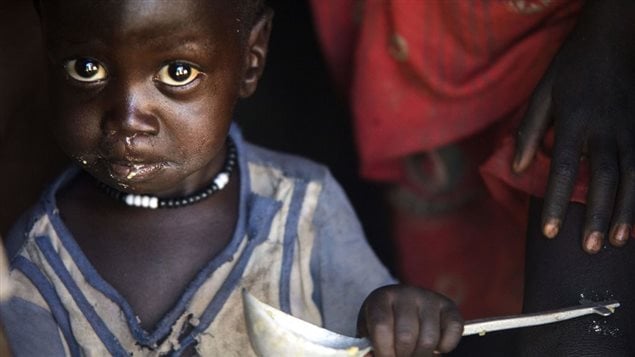 While many people would recall the kind of publicity generated by the 1985 Live Aid events in response to the Ethiopian famine, the current food crisis has generated very little public attention, even though its scale is larger than the horrific famine that hit the Horn of Africa in mid-1980s, Morgan said.
No caps on matching funds
"We're grateful that this announcement today will serve as an opportunity to encourage Canadians to take notice of the situation and to support them through matching their contributions to this Famine Relief Fund," Morgan said.
The money raised through the fund will come on top of $119.25 million in humanitarian funding to respond to food crises in Nigeria, Somalia, South Sudan and Yemen Canada announced in March 2017, said Marie-Emmanuelle Cadieux, Bibeau's spokesperson.
"There is no cap, we want to engage Canadians and reinforce the efforts of civil society organisations," said Cadieux.