A 32-year-old woman accused of assault and threatening people with a knife in a Canadian Tire store in the Toronto suburb of Scarborough on the weekend swore allegiance to the leader of the so-called Islamic State during her court appearance today.
"I am pledged to the leader of the believers, Abu Bakr al-Baghdadi," Rehab Dughmosh, is reported to have said in reference to the shadowy ISIS leader.
Dughmosh made the statement without waiting for Justice of the Peace Alice Napier to begin proceedings in Toronto, reported CBC News reporter Stephanie Matteis.
Dughmosh is facing seven charges, including two charges of assault with a weapon, assault, uttering threats, carrying a concealed weapon, and two counts of possession of a weapon for committing an offence, said Toronto Police spokesperson Cst. Caroline de Kloet.
An employee at the store, located in Cedarbrae Mall, was injured during the incident on Saturday, June 3, but the injuries were not life-threatening, Toronto police said in a news release today.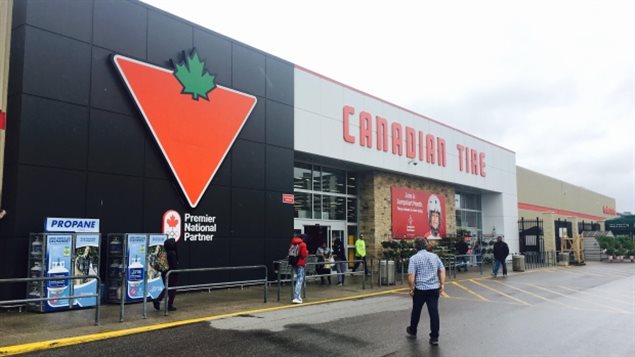 Police said officers responded to a call at the store located near the intersection of Lawrence Avenue East and Markham Road area at around 5:10 p.m. local time.
Police allege the woman walked to the paint section of the store with a golf club and began to swing it at employees and a customer, and also threatened them.
The store employees and customers were able to restrain the woman and contacted police.
Police say the woman then pulled out a large knife from under her clothing. She was restrained and, with the assistance of another store employee, the knife was pried out of her hand, police say.
During her appearance today in a Toronto courtroom in College Park, Dughmosh wore a black face covering veil called niqab, green sweatshirt, pants and running shoes, and addressed the court through an Arabic-language translator. She declined her right to a bail hearing, CBC News reported.
Judge Napier explained it was the responsibility of the Crown to prove that an accused should remain detained, but Dughmosh decided to stay in jail by her choice.
She is due back in court on June 21 and requested to appear via video link.
With files from Stephanie Matteis of CBC News