The Liberal government launched its long-awaited international assistance policy on Friday hoping to position Canada as a champion of gender equality on the world stage.
However, the plan, called the Feminist International Assistance Policy, did not announce any new development assistance spending.
Instead the government is setting out spending benchmarks in the existing budget for targeted programs aimed at promoting women's and girls' rights, and gender equality.
For example the government will allocate $150 million over five years from the existing budget to the new Women's Voice and Leadership Program to help local organizations in developing countries that are working to promote women's rights.
By 2021-22, at least 80 per cent of Canada's international assistance will target the advancement of gender equality and the empowerment of women and girls, said International Development Minister Marie-Claude Bibeau.
Advancing gender equality and promoting equal rights for women and girls is the most effective way to reduce poverty, Bibeau said.
"We will not break the back of poverty if we leave half of humanity at the sidelines," she said during a news conference in Ottawa. "We will not break the vicious cycle of poverty and violence without stepping up efforts to give women and girls a voice, and the opportunities to choose their own future and fully contribute to their community."
The government's aid plan will direct at least 50 per cent of bilateral assistance to sub-Saharan African countries.
Aid agencies welcome policy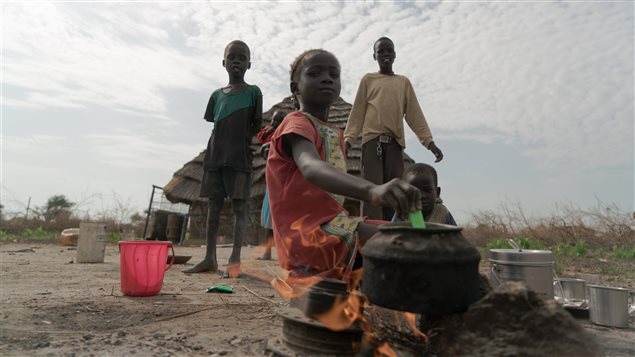 Friday's announcement was welcomed by several development organizations.
Speaking to Radio Canada International from Zambia, CARE Canada's Shaughn McArthur said the plan contains a lot of the points advocated by his organization for a long time.
"I think we have in there a strong affirmation of universal agendas for sustainable development, which have said that we need to have a focus on gender equality, as well as have gender equality integrated throughout our programs," McArthur said in a phone interview from Livingstone, Zambia.
(click to listen to the full interview with Shaughn McArthur)
Listen
Aid agencies know that investing in women and girls can reduce global hunger by 12 to 17 per cent just because the women get the right support on their farms, McArthur said.
"It can help two out of three girls have a chance to make decisions about their own education," McArthur said.
Empowering women and girls also takes pressure off the men and boys so they don't have to be the only source of income for their families, he said.
"We've seen through our programming that a feminist international development policy requires long-term investment, long-term programming that allows you to build trust with local partners to gradually change attitudes and behaviours," McArthur said. "What we need to be doing is getting right into communities and empowering individuals to be agents of their own development."
Julia Sanchez, the president and CEO of the Canadian Council for International Co-operation, said the policy marks a significant and bold shift that puts gender equality and women and girl's empowerment front and centre in Canada's global agenda.
"While the new policy does not include everything we hoped for, it contains many things to highlight and celebrate – a feminist approach, a human rights-based approach, a focus on women and girls, focus  on climate change adaptation and mitigation, and a strong affirmation of Agenda 2030 and the Sustainable Development Goals," Sanchez said in a statement. "The government consulted us, and they have clearly listened."
Bono's ONE Campaign 'disappointed'
But ONE Campaign, the international organization co-founded by U2 lead singer Bono, said it was disappointed the policy announcement did not come with new money attached.
Stuart Hickox, ONE's Canada director, said putting girls and women at the centre of Canada's international assistance spending is a smart policy, and Bibeau deserves credit for it.
She also praised Bibeau's commitment to spend 50 per cent of Canada's international assistance in sub-Saharan Africa.
"That said, it's disappointing that the IAR (International Assistance Review) process is concluding with a recommendation to move money around inside the International Assistance Envelope again, but not to increase its overall size," Hickox said in a statement.
"The juxtaposition of a recommended 70-per-cent increase to [Canada's] defence budget with a recommended 0 per cent increase to the development budget is simply stunning," Hickox added referring to the defence policy review unveiled by the Liberal government on Wednesday, June 7.
With files from CBC News