Civil liberty groups in Canada and around the world want to know about the deals that are made between intelligence agencies to share information. They want access to the agreements between agencies and to policies they have to protect privacy.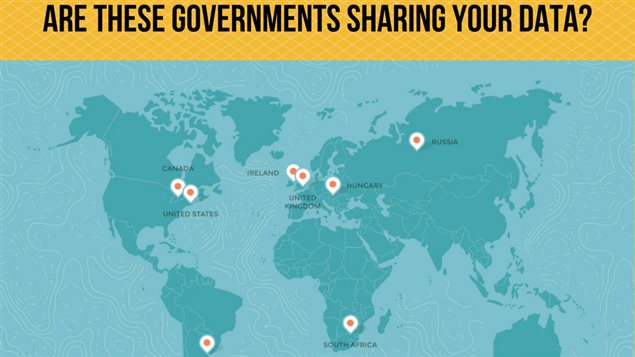 Are domestic rules circumvented, ask civil libertarians
One of the concerns is that intelligence agencies may be using international agreements to get around domestic laws. "Of course, all of our agencies say 'no, we don't do that,'" says Brenda McPhail of the Canadian Civil Liberties Association.
"But what we'd really like to see is the policy proof that says 'we really do have policies that that's forbidden and we really are following them. We do have safeguards to make sure that we're not asking our allies in Great Britain to pick up information that our own domestic agency is not allowed to share or to collect.'"
Listen
A call for transparency
Canada shares intelligence through the Five Eyes, an alliance with the U.S., the U.K., Australia and New Zealand. But it co-operates with other countries as well, and civil liberty groups would like agreements between agencies to be transparent.
A concern was raised by a federal court judge in Canada who said that the domestic spy agency CSIS has stored and used information about people who are no threat to national security, and it has done so in ways that are illegal. McPhail says the public should know whether this information is being shared with foreign agencies.
'How is it helping?'
She concludes that greater public accountability about intelligence sharing is particularly important for Canada. She says governments here and elsewhere should provide answers to several questions: "Why do we need this? How is it helping? Is it effective? Is the huge potential privacy invasion of global citizens…really creating a benefit for security?  Has it solved any problems or is it just creating new ones?"
The Canadian Civil Liberties Association along with the International Network of Civil Liberties Organizations have launched freedom of information requests about intelligence in Canada and several other countries. They promise to post responses on their campaign website.