Canadian scientists have discovered how forests reduce the amount of surface ozone pollution by up to half, creating a new way for much more accurate air quality forecasts worldwide.
The shaded and relatively stagnant air of the forest ecosystem modifies the chemistry of air pollution, resulting in much less ozone formation than had been previously believed to take place, according to a study recently published in Nature Communications by scientists at the federal department of Environment and Climate Change Canada.
Paul Makar, senior research scientist at Environment and Climate Change Canada and the lead author of the study, said the research project began two years ago with a question from a colleague who dropped by his office on a late Friday afternoon.
That colleague was trying to understand the discrepancy between the higher levels of ozone pollution forecasted by computer models and the actual lower levels of ozone pollution recorded by instruments across the country, but especially in eastern Canada and the United States.
"So I started thinking about it, I was wondering what was special about that part of the continent," Makar said.
(click to listen to the interview with Paul Makar)
Listen
Eureka moment
Unlike ozone in the higher parts of the atmosphere that acts as a shield against the sun's harmful ultraviolet radiation, ozone on the ground level is actually a pollutant linked to respiratory health problems, smog, climate change, and crop damage, and it was important to get the forecasts right, Makar said.
"It was a Friday afternoon and I decided to let it cook in the back burners of my brain and at 5 a.m. on Sunday morning I woke up with a bit of a Eureka and I thought, 'Holy cow that's where the forests are!'" Makar said. "What if it's the forests? It's dark under the trees and dark environments make less ozone."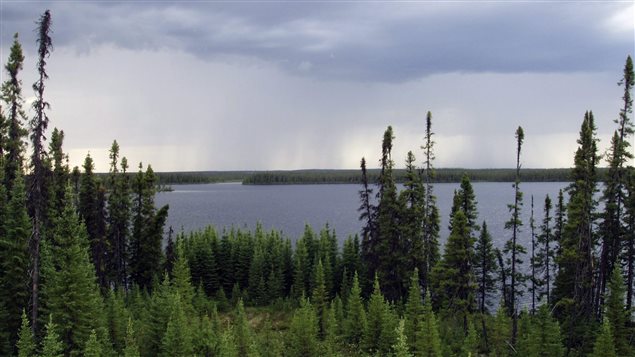 The next step was to try to test his hunch and incorporate it into the air pollution models.
Testing a hypothesis
On Monday morning Makar went to see two of his colleagues. One of them was study co-author Ralf Staebler and he had been measuring ozone and other chemicals at a forest research station located just west of Barrie, Ontario.
Makar wanted to know how does the amount of ozone change depending on the height of the forests. Staebler showed him his data, which indicated that ozone levels dropped significantly between the forest canopy and the ground.
"This was confirmation that this could be our missing process," Makar said. "There is this shading effect of the forest that could actually be reducing the ozone."
The second person Makar talked to was Chris McLinden, a satellite data expert at Environment and Climate Change Canada.
Makar wanted to know what kind of satellite data was available to describe the quantity of leaves in a forest. It turned out there were several new sources of data available to try to feed it into a new model to simulate the shading effects produced by the different forest canopies, Makar said.
Turning a forest into a mathematical formula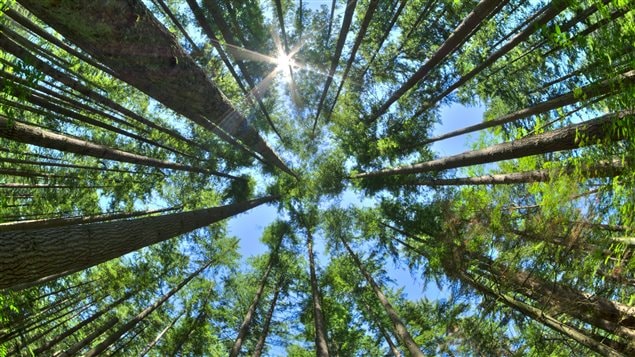 It took the team of scientists working with Makar about a year and a half of very intense effort to change the code of Environment Canada's air quality model.
The scientists had to figure out how to describe the forest mathematically and then convert that math into computer code.
"These computer codes are incredibly complex," Makar said. "We have to describe essentially the atmosphere of a little world mathematically and then in terms of computer code inside the computer and we have to do it so accurately that it can mimic what the real atmosphere will do tomorrow."
Another group of scientists was working on taking the satellite data on forests and converting into something that a computer can understand, Makar said.
After about a year of work the researchers managed to incorporate their forest model into an air pollution model.
'Something beautiful'
When everything was ready, he hit a key on his keyboard and started a simulation of July 2010, Makar said.
"We saw something beautiful happen," Makar said. "When we looked at the forecast and compared to what we had before for that month and for that year, all that extra ozone had dropped a lot."
In the northeast of the U.S. and Canada the overestimate in ozone was reduced by 97 per cent, he said. The result was a tool that allowed scientists to forecast air pollution much more accurately.
The study also showed that in the absence of forests, ground-level ozone levels would be as much as 50 per cent higher, Makar said.
The discovery has several implications for our management of forest resources and is another reminder of the importance of protecting parklands, wooded spaces, and even small urban forests since they help to lower ozone levels, Makar said.