Racist incidents and racial profiling accusations are piling up across Canada this month.
In Quebec, the scene of four young black athletes labouring at the task of moving a float in last weekend's annual St. Jean Baptiste parade, while a white singer serenaded the spectators and a crowd of Caucasians dressed in white followed, struck many people as racist.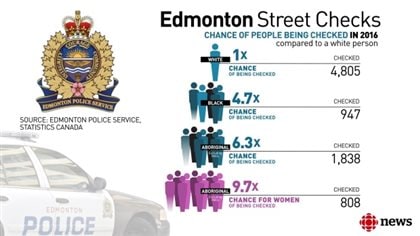 Then, there is the recent experience of Malik Smith, a young black man near Montreal, dramatically arrested as he left his home and jailed for over nine hours following the report of a gunshot in the neighbourhood.
The gunshot turned out to be a hydro transformer blowing. When asked what he would say to the police officers, the young man responded to CBC Montreal saying, "You guys disgust me."
In Edmonton, Alberta, this evening, members of the city's chapter of Black Lives Matter (BLM) and the Institute For the Advancement of Aboriginal Women, are meeting with the province's Justice Minister, Kathleen Ganly, to discuss their issues with the Edmonton Police Service.
Edmonton police have been racially profiling indigenous people, particularly indigenous women, and black citizens according to the statistics released to a CBC investigative team, and the city's Black Lives Matter group.
"Within the black community, people have known that this has been happening"
The freedom of information requests (FOIPs) revealed that in 2016, First Nations women were almost 10 times as likely to be checked as white women. Indigenous men were six times more likely to be stopped than white people. Black people were nearly five times as likely to be stopped.
"It's racial profiling; just full stop," Bashir Mohamed, a member of Edmonton's Black Lives Matter (BLM), told CBC News.
"Within the black community, people have known that this has been happening and the numbers just prove what we already suspected."
Listen
"Street checks", also known as "carding" in other Canadian cities, is the police practice of stopping people, on foot, or in their cars, to ask about their identity and then entering the information into a nation-wide data base.
Bashir Mohamed, also a member of the Somali community in Edmonton, says this can cause major problems for people in the future. The information is shared with both the Canadian Border Services Agency (CBSA) and the Canadian Security Intelligence Service (CSIS).
He says for Permanent Residents, and perhaps those with dual citizenship, a name coming up at the border when returning to Canada, can cause problems. And he describes the situation of a law student in Toronto who requested a "police-ride-along" and was denied, because his name came up in the data base.
Mohamed says the issues are both a matter of privacy and human rights.
Black Lives Matter and the Institute for the Advancement of Aboriginal Women want the street checks banned and all the data collected, destroyed, by January 2018.
Rachelle Venne is the CEO of the Institute For the Advancement of Aboriginal Women. She says the statistics illustrate the reality that prejudice exists.
"Carding for no reason does not build relationships, rather the contrary," Venne told CBC News. "It reinforces the attitude that Aboriginal women are not worthy of the human rights that most Canadians enjoy."
Staff Sgt. Warren Driechel of the EPS told CBC News that street checks do not target people by race, and that police officers are trained to respect individuals' rights and conduct the check appropriately.
He also said they don't hold on to the information. "Responsibly, we would only keep this data for so long," he said. "We don't want to become prejudicial by reading the street check 10 years from now and saying that this person was involved in this lifestyle."
When CBC requested a copy of the EPS street check policy via a freedom of information request, what they received was news to Bashir Mohamed.
The policy, for those being stopped for the first time in Edmonton is as follows:
"Members must be aware that the subject(s) is not obligated to provide any information during a street check, and may disengage with members at any time:" It continues to clarify that: "Members must be able to articulate this to the subject(s), and should be able to reinforce that the subject(s) is not under detention if questioned."
With files from CBC