British Columbians are waking up to a new premier after a tumultuous Thursday evening that saw the provincial Liberals lose a non-confidence vote in the legislature, sending them to the Opposition benches for the first time in 16 years.
New Democratic Party leader John Horgan will become B.C.'s 36th premier and form a razor-thin minority government supported by the provincial Green Party.
Horgan, 57, said his first priorities will be helping the softwood industry after the U.S. slapped punitive tariffs on lumber, the opioid overdose crisis and boosting resources for the education system before the start of the next school year to comply with a Supreme Court of Canada ruling.
"We want to make sure that the services people count on are there for them when they need it," he said. "We want to make sure, most importantly, that we continue to grow as a dynamic, diverse province, the envy of Canada."
He couldn't say precisely when the NDP will be able to swear-in a cabinet and begin the task of governing, but indicated he wants to act quickly.
Prime Minister Justin Trudeau congratulated Horgan on his new position and expressed hope the two leaders can work together despite their differences on the controversial Trans Mountain oil pipeline project.
The Trudeau government approved the controversial 980 km project in November 2016.
But both the B.C. NDP and the Greens have voiced their opposition to the $7.4 billion expansion project, which would see the pipeline running from Edmonton to Burnaby nearly triple its capacity to 890,000 barrels of crude per day.
"By coming together in a spirit of cooperation, I am confident that we can grow the industries and sectors at the heart of the province's prosperity, while promoting clean growth and innovation and investing in public transit and green infrastructure," Trudeau said in a statement released on Friday.
"I also look forward to working with Premier-designate Horgan to implement the Calls to Action of the Truth and Reconciliation Commission and the United Nations Declaration on the Rights of Indigenous Peoples, as we renew Canada's nation-to-nation relationship with Indigenous Peoples."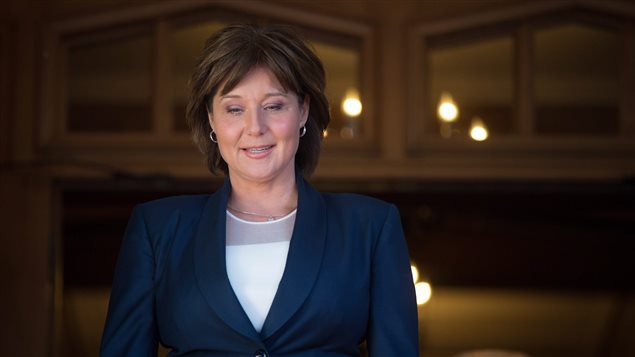 Horgan's fledgling government faces hurdles because even with the support of the three Green members of the legislature, the NDP can only count on 44 votes in the 87-seat assembly, putting them in a precarious position.
The news that Horgan will take the helm came not long after Clark met with Lt.-Gov. Judith Guichon for about 90 minutes Thursday.
Clark had asked for the dissolution of the house and a new election. But the Queen's representative declined that request, calling Horgan instead and getting an assurance that his NDP-Green alliance would have the confidence of the legislature.
With files from CBC News and The Canadian Press