The extraction of oil from sand in western Canada has left over a trillion litres of waste stored in tailings ponds and they are getting bigger. Two environmental groups issued a report showing the cost of cleaning them up would exceed $45 billion (the amount collected in royalties) and as companies close or go bankrupt, the Canadian taxpayer could end up having to pay the bill.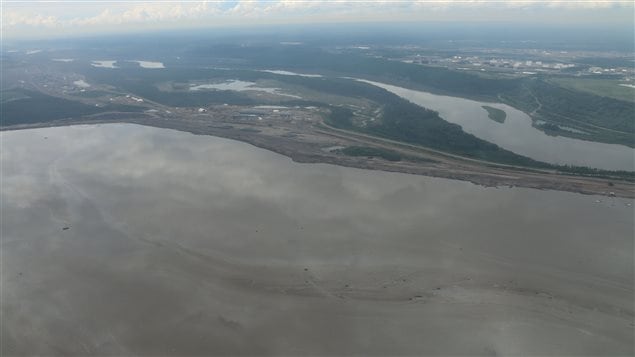 'Acutely toxic' ponds kill wildlife
"The tailing ponds themselves, because a lot of it is water, are leaking into the Athabasca River and that carries the toxic chemicals…into the river," says Tim Gray, executive director of Environmental Defence. "Millions of litres a day are seeping into the Athabasca River.
"They also pose a direct threat to wildlife. There's been several events where flocks of wild fowl—geese and ducks—have landed on the tar sands tailings ponds and immediately died because they're so acutely toxic."
Listen
Groups demand oil companies set aside cleanup funds
Gray says this is a clear violation of the federal Fisheries Act. Dale Marshall of Environment Defence agrees and is calling on the government to force the oil industry "to clean up its act and change the way it deals with toxic waste."
The two groups want a halt to all expansion of tailings ponds until oil companies address the problem of the existing ones. They want oil companies to be obliged to set aside the money to clean up tailing ponds and they want bankruptcy laws changed so that when an oil company goes into receivership the cost of cleaning up the ponds takes priority over other creditors.
Ponds cover an area the size of Toronto and Vancouver, says groups
"The tailings ponds have been growing for 50 years and now they cover an area that is about the same size as the city of Toronto and Vancouver together," says Gray. "They haven't been successfully cleaned up and so we have a mounting liability for the Alberta citizens and Canadians more broadly."