Visiting Canada's National Military Cemetery in the national capital Ottawa, one is struck by the well-kept grounds and clean and still clearly legible grave markers.
But that seems not to be the case for the gravesites of tens of thousands of other veterans located across the country.
An audit by the federal government department, Veterans Affairs, found that some 45,000 or more veterans gravesites are in varying states of disrepair.
The reason is because of government cutbacks.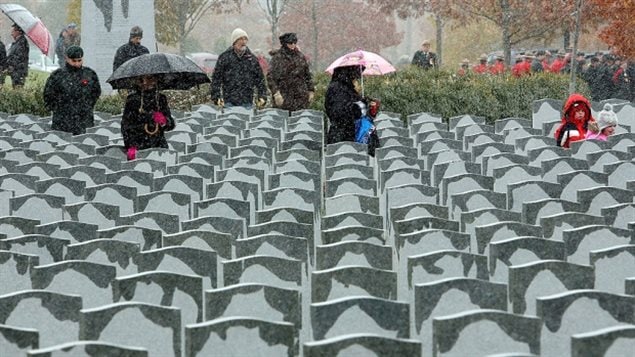 In 2003 funding for maintenance, repair, and upkeep was some five million dollars,  but was slashed to one million dollars that same year. Today it's only 1.2 million. Canada also funds the Commonwealth War Graves Commission for upkeep of military gravesites of commonwealth soldiers killed abroad in the World Wars.  Those gravesites are well-maintained.
It seems not much has changed in Canada however since an earlier audit by Veterans Affairs in 2014 when it noted that almost the same number of gravesites needed some kind of repair.
A spokesman for the department said they were looking at efficiencies to speed up the repairs which would take 17 years at the current funding level.
The report noted that legability, marker replacement and foundation repair needs are all increasing along with the costs of those repairs, a sort of double-whammy.  Officials say however that there will be no new money until next year at the earliest.
The department is responsible for over 200,000 veterans graves in 6,000 cemeteries across Canada. Unlike several other countries, where the government accepts responsibility for veterans graves only in official military cemeteries, Canada's government has responsibility for all veterans graves wherever they are located in Canada.
Speaking to the Canadian Press, Randall Wakelam, associate chair of war studies at the Royal Military College of Canada said "It always seems to be about efficiency, and seemingly not about delivering an effective service to Canadians".
Sources -additional information