The travelling circus that is the summer professional tennis tour is gearing up with one-week whistle stops in Atlanta, Washington, Montreal, Toronto and Cincinnati, all leading up to the U.S. Open in New York at the end of August.
The Canadian versions of what is known casually as the North American hard-court season and officially as the U.S Open Series begin August 5 in Toronto (the women) and Montreal (the men) playing in the two-pronged Rogers Cup.
But who will be here?
Rafa Nadal, winner of the French Open, is odds-on to appear. Andy Murray and Novak Djokovic, maybe not. Each was plagued by injuries at Wimbledon.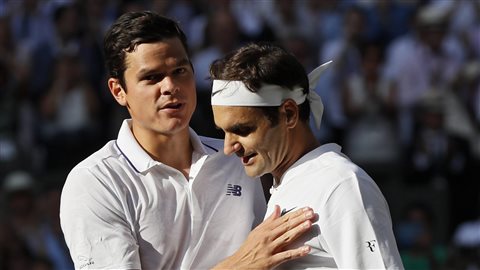 That leaves the fellow who won his 19th Grand Slam title last weekend at Wimbledon and the Australian Open in January–both accomplished with taking time away from the grind of the tour.
Roger Federer hasn't won the Rogers Cup since he took the second of his two titles in 2006.
Last year, plagued by injuries, he did not come at all, skipping the big birthday bash Canadians throw him every Aug. 8.
Federer turns 36 this year and all Canadian tennis fans–and a whole lot of other people–can do is keep their collective fingers crossed that he will find a way to come to Montreal.
A lot of factors are in play.
Among them: How much does Federer have his sights set on regaining the No.1 spot in the ATP rankings? And how does that balance with having the required energy needed to win his third Grand Slam title of 2017?
Will he or won't he? It's likely Federer himself doesn't know at this point.
So far, at least, he hasn't said no.
For an educated guess on the matter, I spoke with Stephanie Myles, who has evolved into Canada's premier tennis journalist, writing for both the website tennis.life and the New York Times.
Listen